Here at Holmebank we supply quality horse hair suitable for rocking horses.
Simply e.mail us on davidvictorvine@gmail.com with your requirements.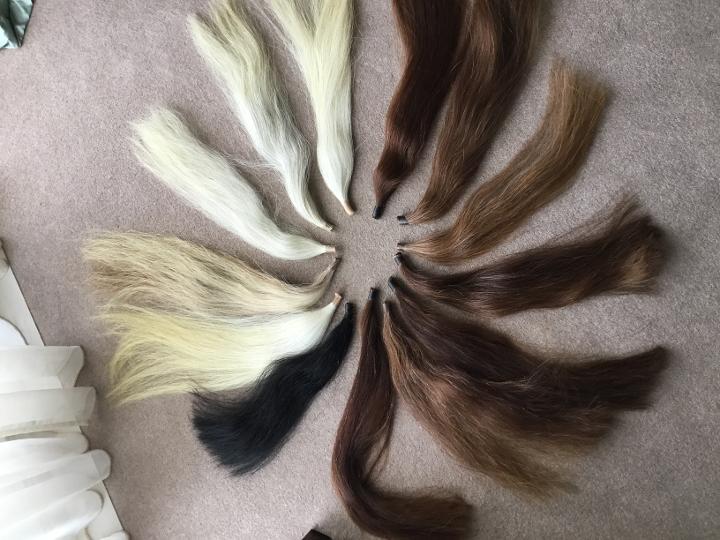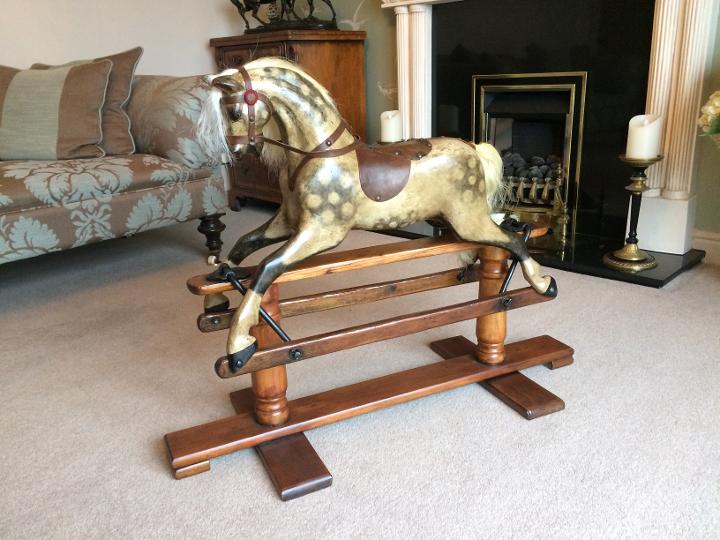 'CHRLIE' A Lines size OO (28") Fully restored here at the Holmebank workshop.He would make a stunning display piece or suit a teddy/doll colector. SORRY NOW SOLD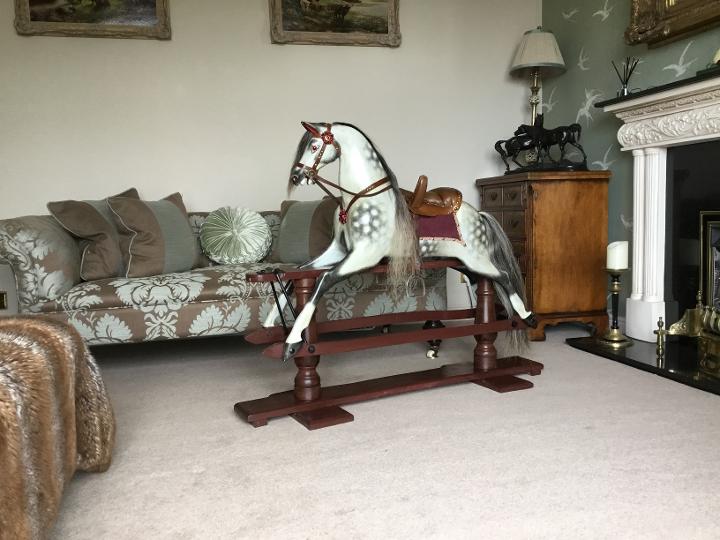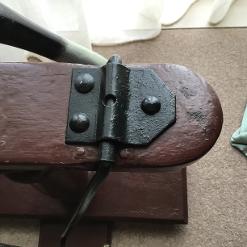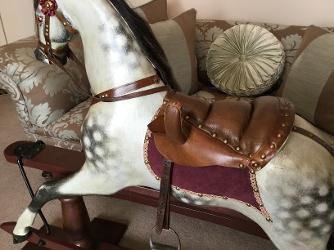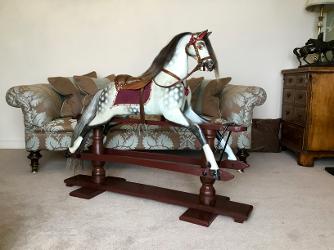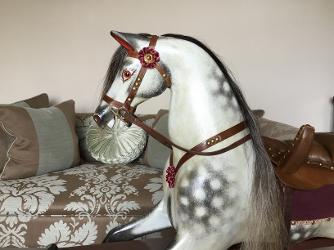 'WINSTON' A very rare early antique, unattributed 38" rocking horse. with turned head. Fully restored to a very high standard and now ready to move on to a permanent stable. He is offered for sale at £2,750.00 and would make a good solid investment.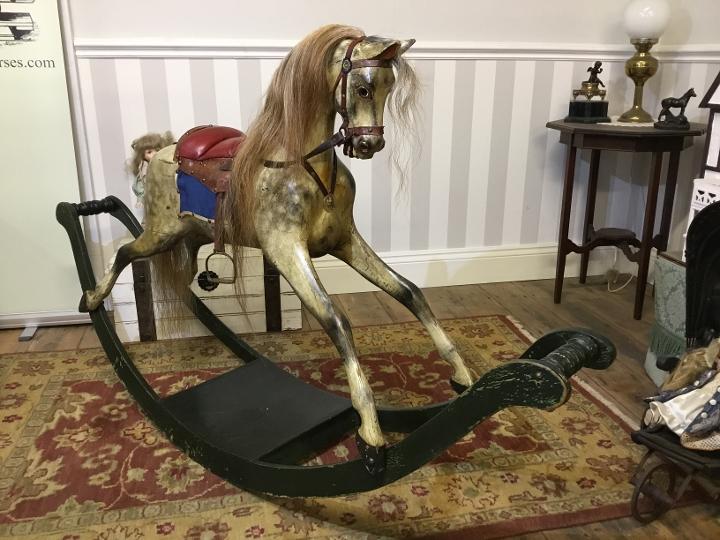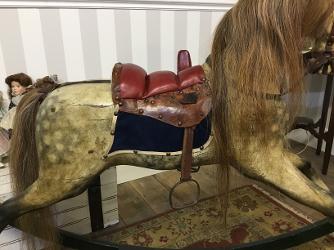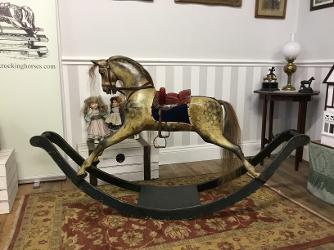 'FLORENCE' Is a G&J Lines improved old style rocking horse No21a, standing 40" on a 72" bow. Her paintwork has been carefully preserved. Most of her tack is original bar the saddle seat and saddle cloths. She bears the plain buckle strap and thistle plaque (before the firm was incorporated in 1907) but we think she was made in 1914. She is offered for at £3,000.00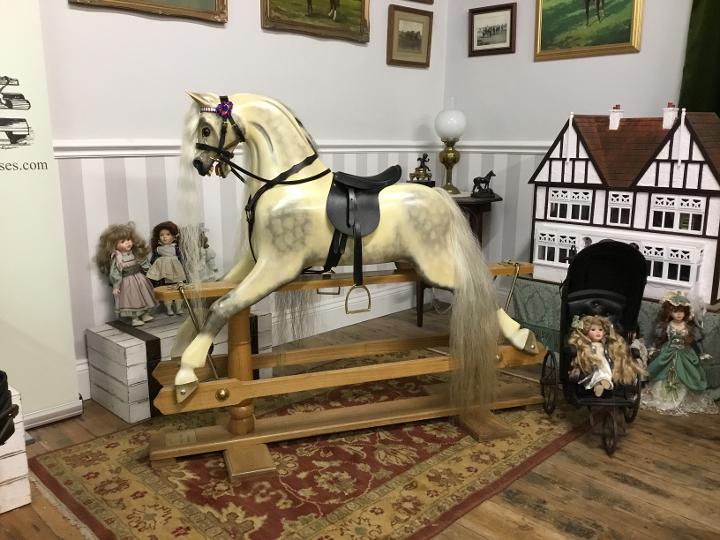 'ARIANA' A holmebank 48 with Jasper Highet havana tack. Subtle dappling over some extra carving sat on a polished ash stand. A superbly constructed horse for a large child or small adult. Offered for sale at £1600.00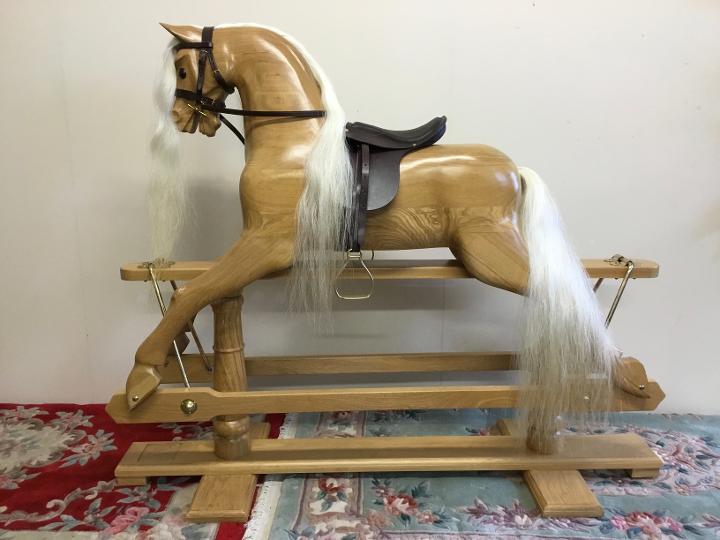 A beautifull highly polished ash rocking horse on a very sturdy ash stand. The finish of this horse shows off the lovely grain detail of this superb hardwood. He is supplied with removable Havana leather tack with brass fittings all round. A real eyefull in the right setting. We are offering him for sale at £ 1300.00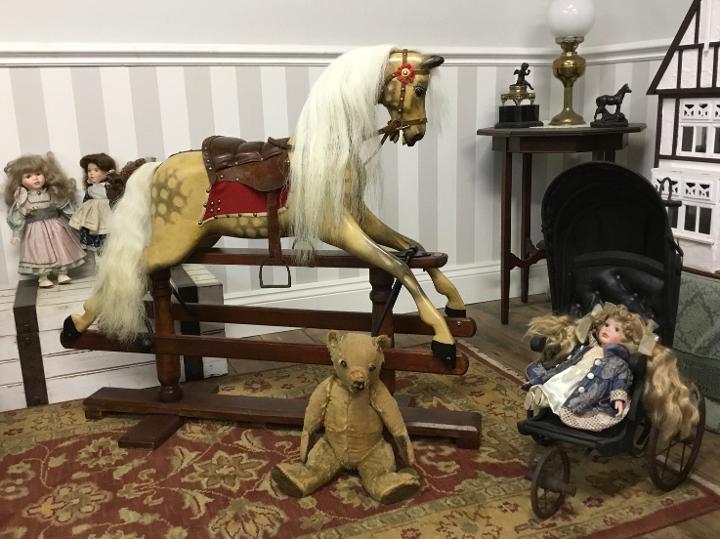 'CHESTER' A G&J Lines Improved safety rocking horse No 21 Extra carved. Standing 38". Purchased from the Pygmalion Dep't store Leeds in 1910. Chester has had a full restoration here at Holmebank and is now ready to move on to a new home. He would suit a teddy/doll colector or make a great display piece. Offered for sale at £ 1450.00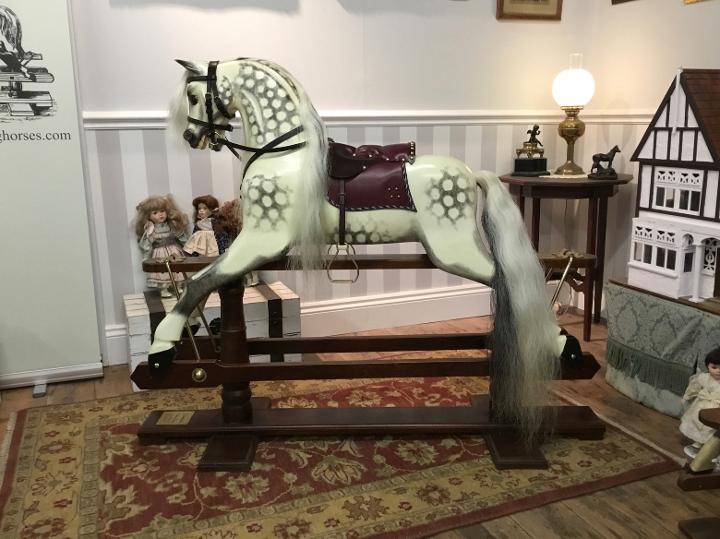 'THOMAS" A Holmebank 48 with traditional saddle and removable bridle. This horse is very sturdy and would give a child many years of pleasure and would allow mum to have a light hack now and then. Built from solid ash with a dark stained ash stand the construction is second to none. SORRY NOW SOLD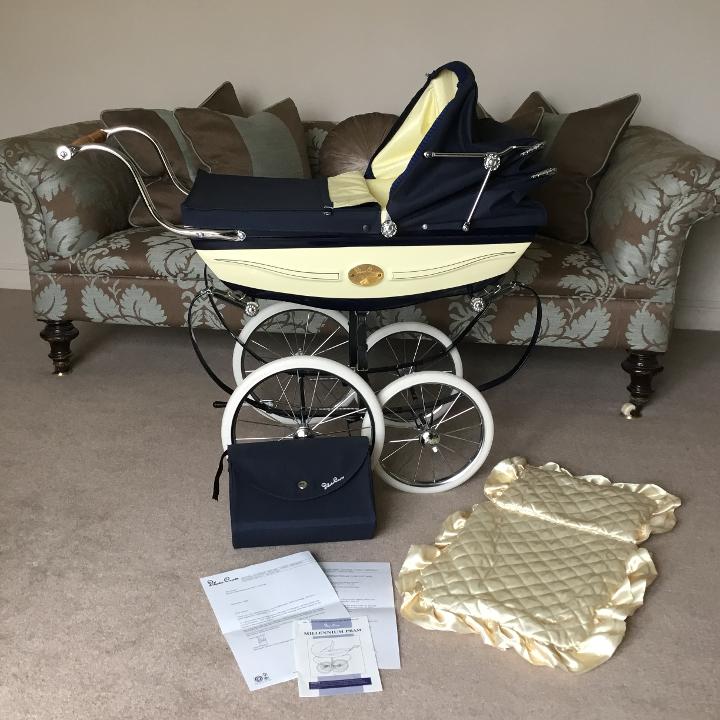 Silver Cross Millenium Coach Built Pram.
Never having been outside or played with this is in outstanding virtually as new condition. Only ever been on display in a bedroom.
THIS IS EVERY LITTLE GIRLS DREAM.
WOULD MAKE A PERFECT CHRISTENING PRESENT OR SUIT COLLECTOR FOR DOLLS AND TEDDIES
offered for sale at £400.00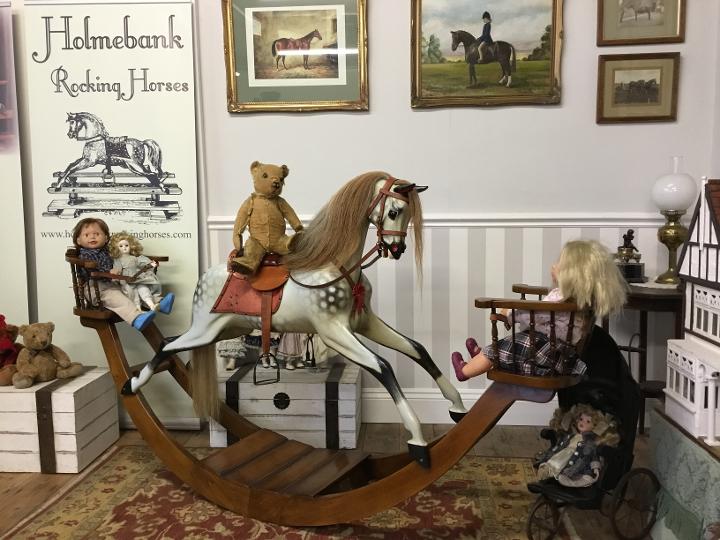 'GEORGE II' A stunning Stevenson brothers nursery bow rocker. Made in 1998 so is an early carving from this company. He sits very elegantly on his bow which has end seats. He is in outstanding virtually new condition and we don't think he has been played with at all, he has spent all his days on display in a bedroom and is now ready for a new chapter in his life. Comes with some original documentation. He is such an eyefull and would be an outstanding statement in any room. This very special rocking horse would be well over £7000.00 to have made today. Offered for sale at £3500.00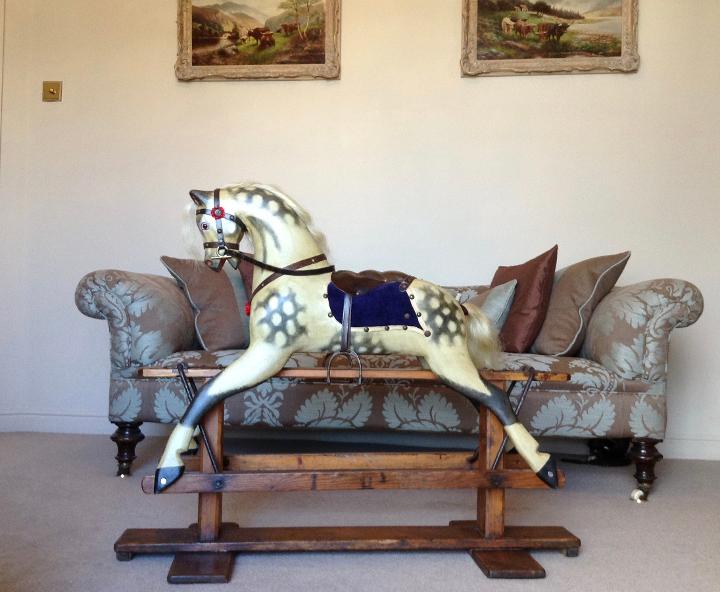 'CHARLOTTE' A very cute 32" Baby Carriages 'Rambler' from the 1930's. She has been fully restored here at Holmebank and hand painted by David. Her stand has been fully overhauled. There are some signs of woodworm from the past but these have been treated thoroughly. Perfect for Doll/Bear collector display. Would make a great christening present and would make a great heirloom to pass down through generations to come. SORRY NOW SOLD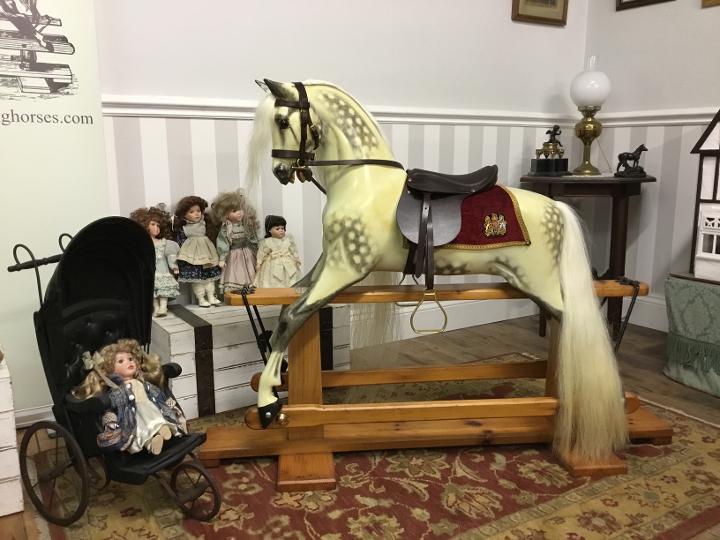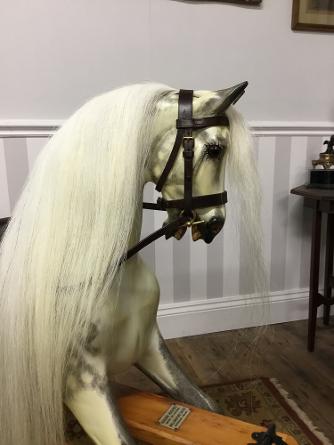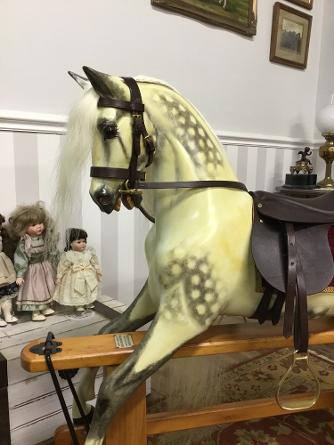 'JASPER' A medium Haddon painted in the style of a 'D Type' Ayres. This horse is made of fiberglass so is ideal for children to have hours of fun on. He measures 42" so doesn't take up too much room but would do a lucky child up to about 12 years. Offered for sale at £1450.00.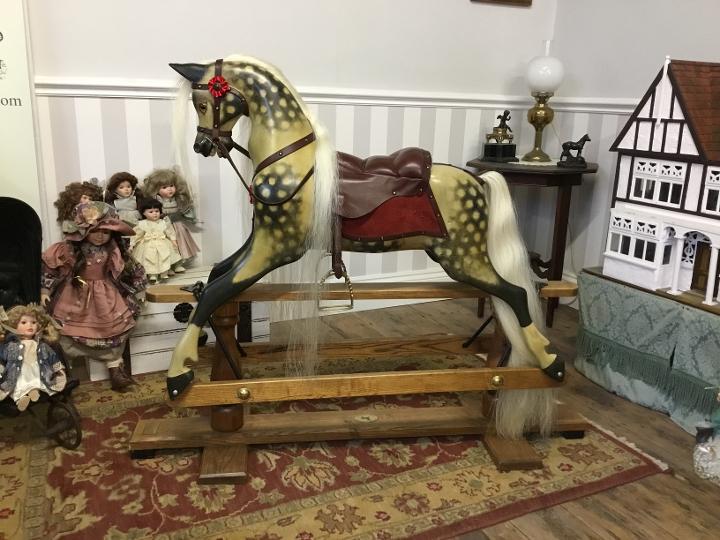 'OLLY' Is a superb David Kiss rocking horse based on an early G&J Lines model. He is in outstanding condition. We have done some light restoration on him and fitted a new mane and tail. He was created in the late 90s and as with all of Mr. Kiss's horses the build quality is unsurpassed. Offered for sale at £1500.00.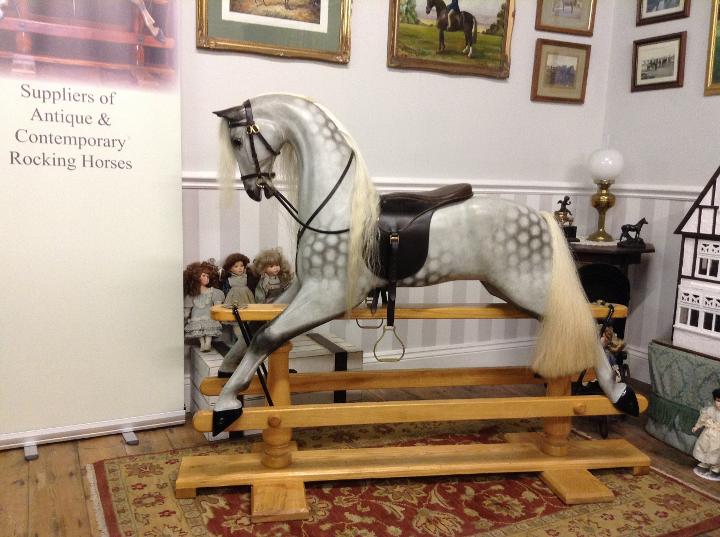 'MONTY' A very special extra large (52") exquisitely carved rocking horse with superb tack. Monty has the kindest characterful eyes,(no teeth showing) and a lovely subtle dapple finish. Solid wood with high quality hardwood stand. He would suit a larger child or small adult or would make an outstanding focal point in the right room setting. He has only ever been on display but is raring to go to a home that would fully appreciate his quality. SORRY NOW SOLD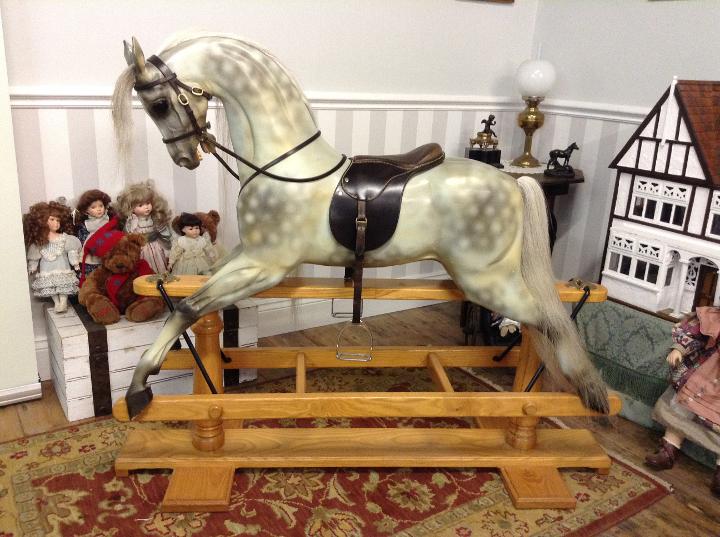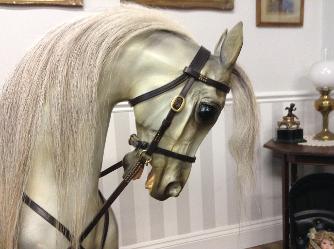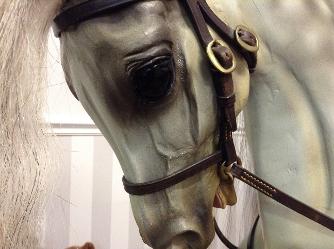 'LINCOLN' Meet a very special work of art. Carved by the late and truly gifted Harold Wakefield. Lincoln stands 49" on his beautiful hardwood stand and is fitted with fully removable English Havana tack. The carving, especially to his head is exquisite. The expression on his face is truly lifelike and reminds me of classical renaissance sculptures from Italy. His eyes are in fact carved and not the usual glass and they really have great depth and realism. This is a complete 'one off' horse. There isn't another in existance with this style of head carriage so he is very 'collectable' SORRY NOW SOLD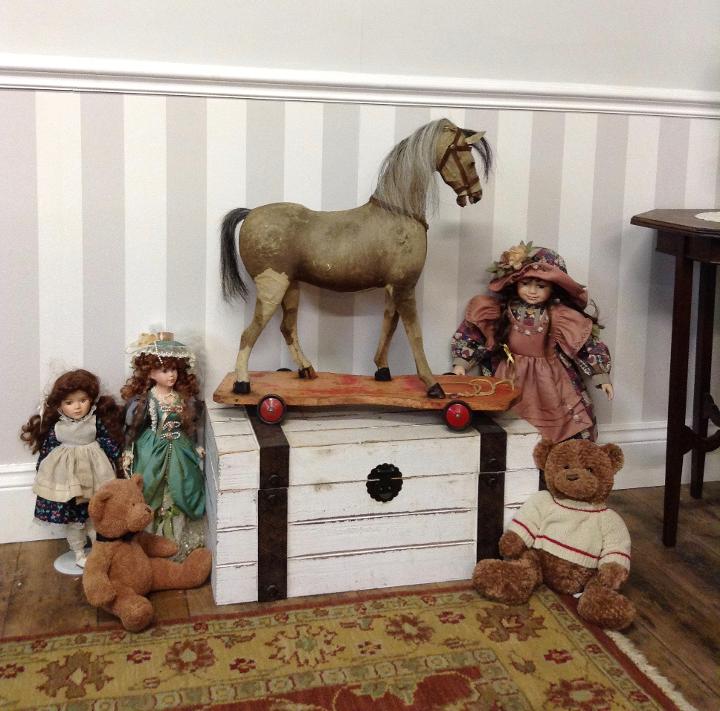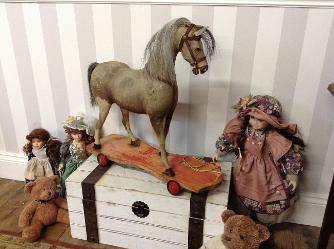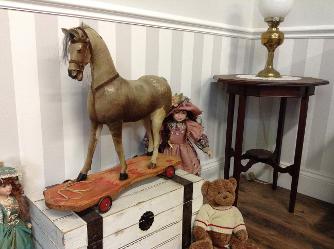 A very rare German skin covered pull along horse Circa 1930 possibly could be earlier. We think it could be from the Bauer and Krause factory. He has had very light restoration and retains most of his originality. Perfect for a doll/bear collector as he is only 25" high. OFFEREDFOR SALE at £350.00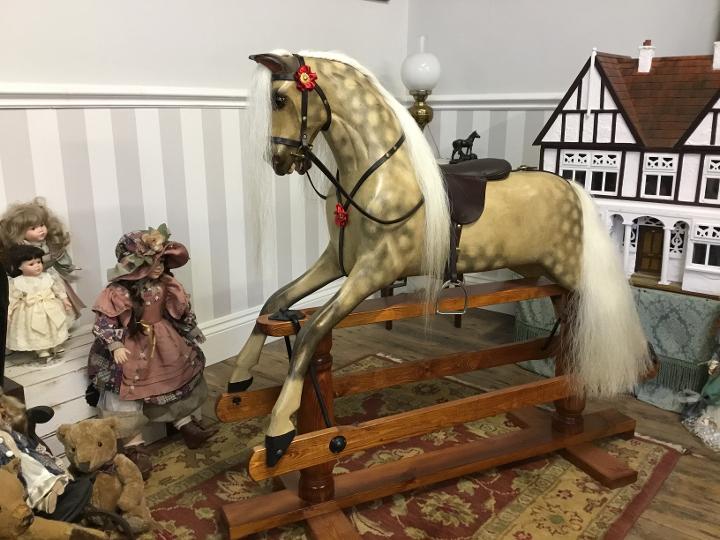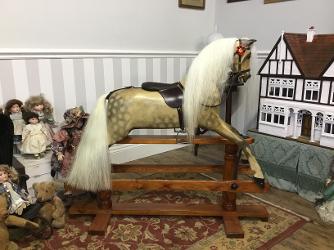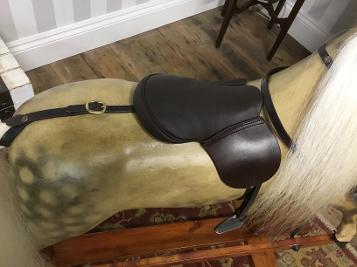 'RALPH' A stunning 43" Woodrow "SWALLOW" from around 1930. Fully restored here at holmebank. Ralph's stand was too wobly to salvage so we have made him a new one to the exact pattern. He would make a lovely feature in any room setting and is very sound and ready for play. He has a lovely back story. Offered for sale at £ 1450.00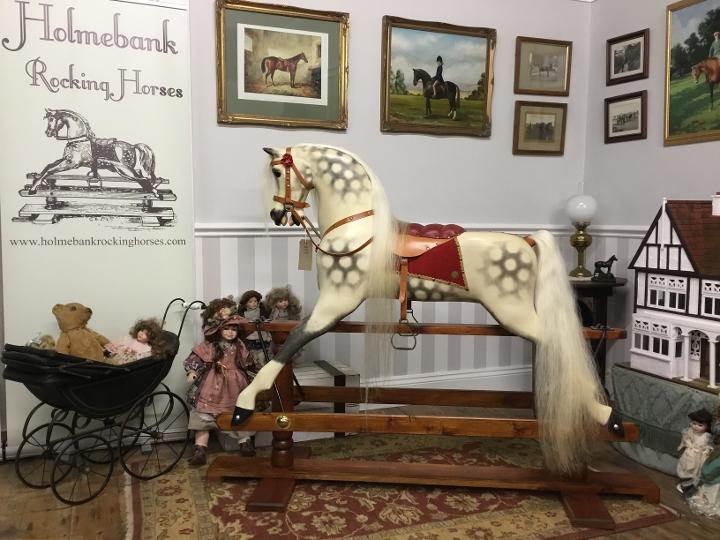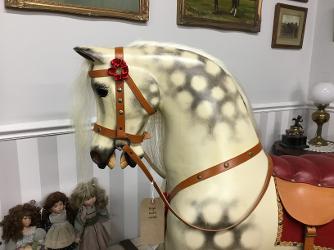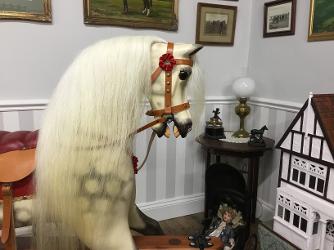 'SILVER" A very imposing Norton & Barker circa 20s-30s. He stands 54"! Hard to find at the best of times but at this height almost impossible so he is a rarety by any ones standards. Silver came to us with the wrong stand so we have made him a new one of the correct pattern and he is ready for play for some lucky person (child or adult) Offered for sale at SORRY NOW SOLD