Holmebank Rocking Horses of Mirfield West Yorkshire are restorers of fine English rocking horses. We made our first rocking horse in 1985 and have been restoring horses ever since.

Antique horses in well preserved condition albeit with bumps, bruises and scratches have much more character and aesthetic charm than over restored horses.
Here at Holmebank we aim to leave as much 'history' in a horse as possible. If the horse is to be ridden though, some compromises may have to be made for obvious safety reasons like new stirrup leathers and reins ect.
So depending on what you want for your horse we can preserve it and keep as faithfull to the original so that it can be admired in its retirement. Or carry out a complete restoration/overhaul. The choice is yours.
We can advise you on the best way forward and provide a free quotation.
Holmebank is run by David and Sue Vine. We do all the work ourselves in house so it can take a while completing a horse. We don't rush things here, we work in the traditional way which takes time and patience. Conversely we are not blessed with acres of storage space so we don't procrastinate once a horse has been booked in.
We will of course be able to give you an estimate of the time it will take.
Click on 'restorations' to see the kind of work that we do, and feel free to contact us for advice, completely without obligation. It is an important decision to make when considering what to do with a much loved rocking horse so you probably need to get some ideas before the final decision is made.
Thank's for taking the time to view our site. Check out our Facebook page to get up to date news from us.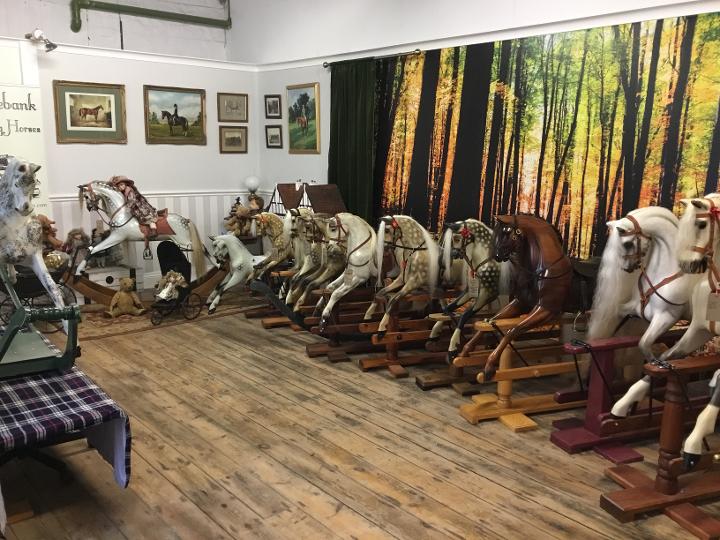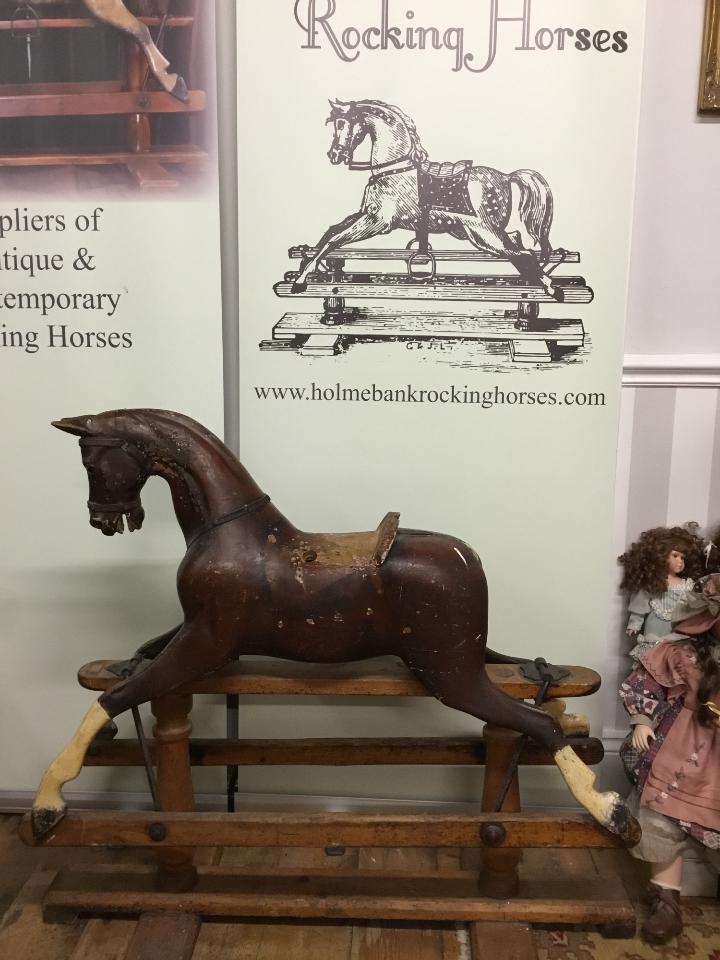 This very rare G&J Lines chestnut horse came in for some light restoration. It was basically very sound but just needed bringing back to life, A classic case of sympathetic preservation.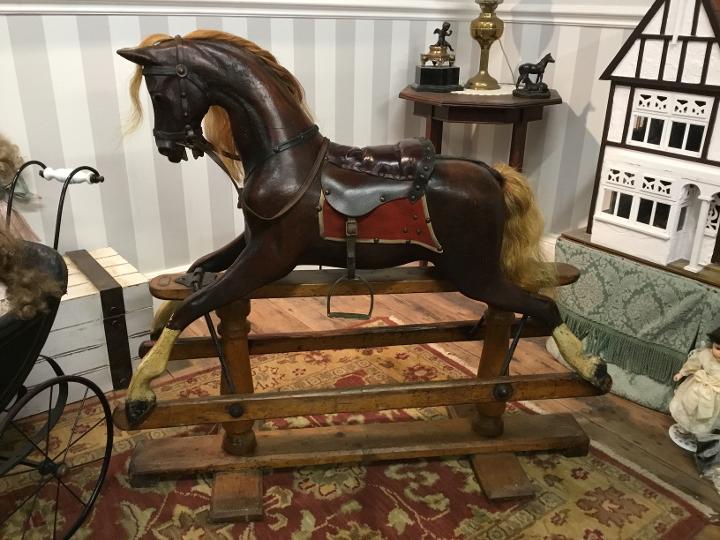 Now very smart but still looking his age which is exactly what the client required.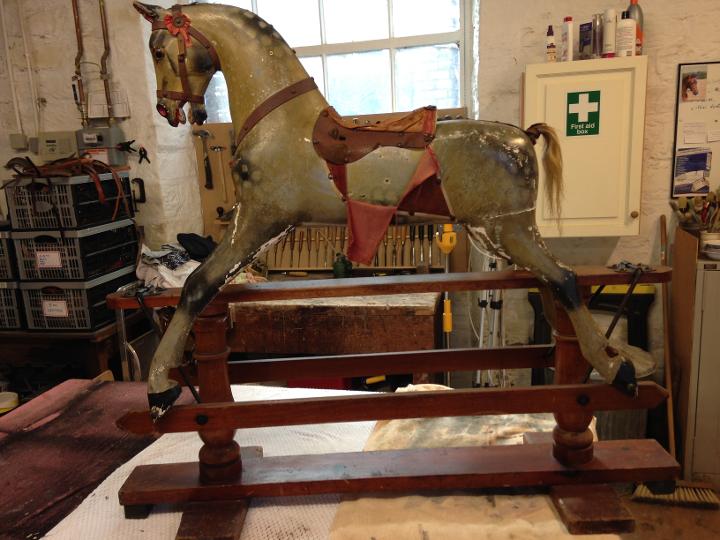 This F.H.Ayres horse came to us in quite good condition. The client wanted us to retain as much of the originality as possible.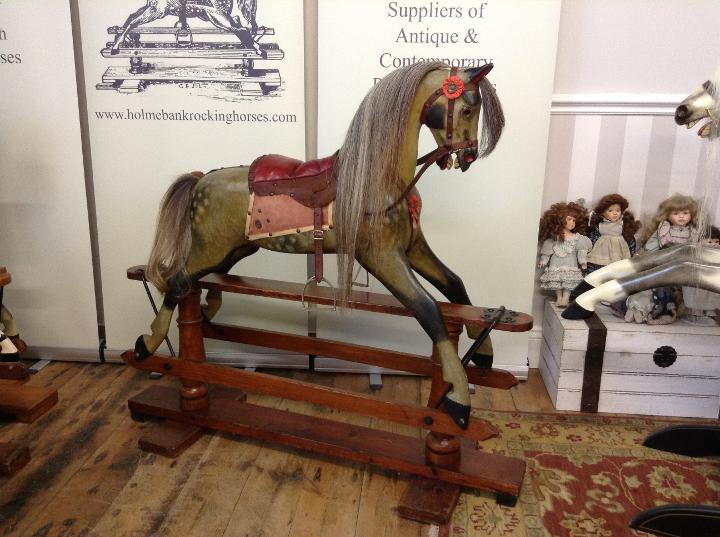 We repaird the missing gesso and painted it the same colour. New saddlery from vintage leather and new mane and tail. The client was delighted.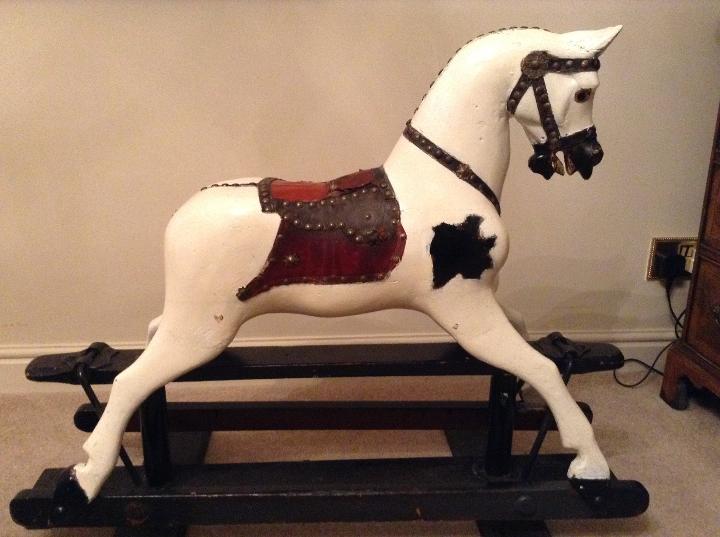 We found this little chap in Chorley Lancashire, so he is now reffered to as 'CHARLIE'. He is a Whiley brothers horse from the 1930s. Made in Leeds. Very hard to find, and in basically sound condition under all the layers of gloss paint.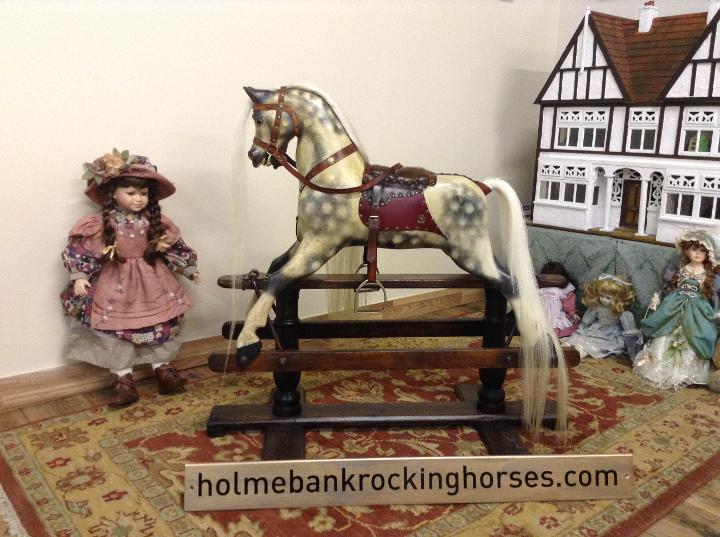 We carefully stripped the layers of 'Dulux' off to reveal his original finish. We took a pattern of the old saddle and made a new one from period leather and managed to re use all the studs and metalwork. The stand was missing its support pillars so we turned some new ones. There were a few old bore holes in the base of the stand and as with all our horses he was treated with Cuprinol woodworm fluid. We class this as a full restoration.He is a stunning little horse now and has gone on to join a collection of other antique horses. (we trimmed the extra long mane and tail for the new owner to a more realistic length)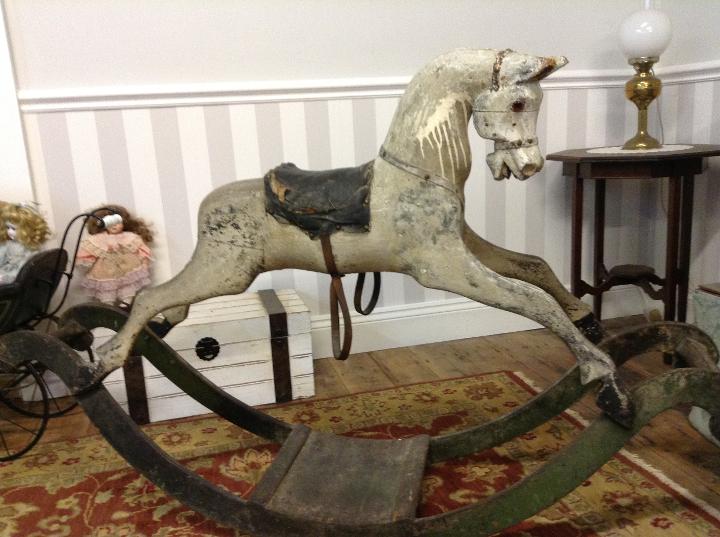 This 19th century bow rocker needed a complete restoration. The hind legs were loose in their sockets and the head had been nailed back on after a complete break. The sadlery had rotted and wasn't entirely original but he is after all a very elderly old gent.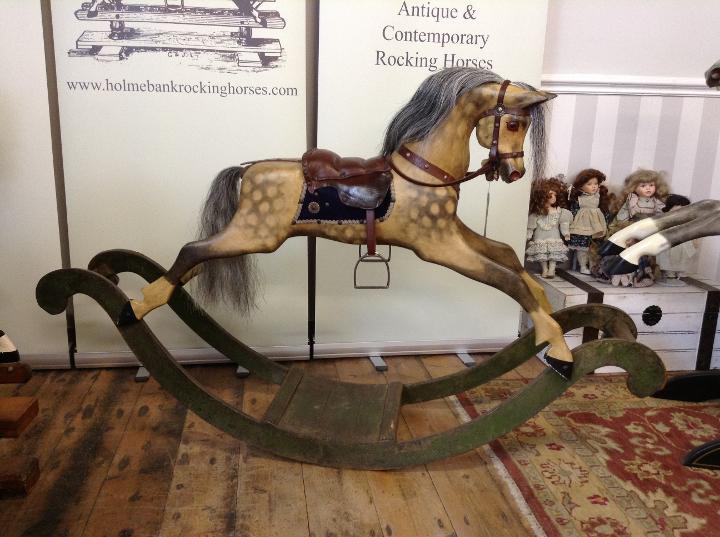 We cleaned the rocker and replaced a broken end stop then waxed it which gave it a wonderfull patina. the sadlery was replaced using vintage leather. The gesso was consolodated and then painted in the traditional style of the period.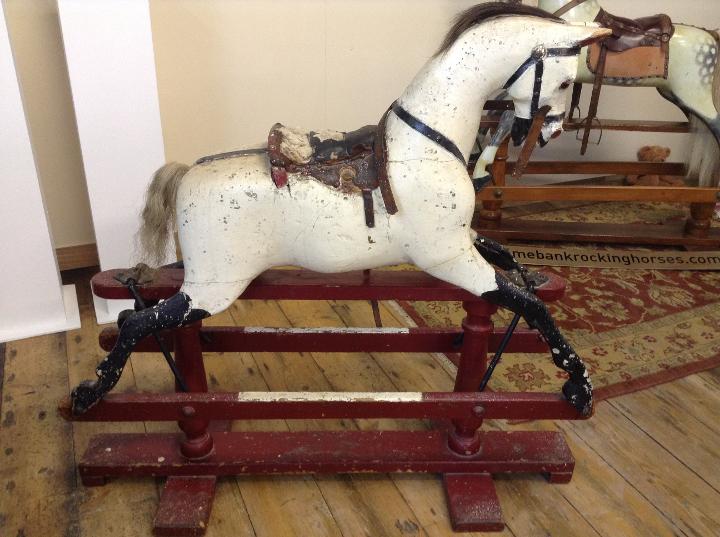 'Mr. Bennet' is an early 1900's G & J Lines horse who came to us for restoration in a bit of a state. He had many layers of gloss paint and we were hoping to reveal his original paintwork but unfortunately this had gone sometime in his past. The saddle was irretrievable but we love a challenge.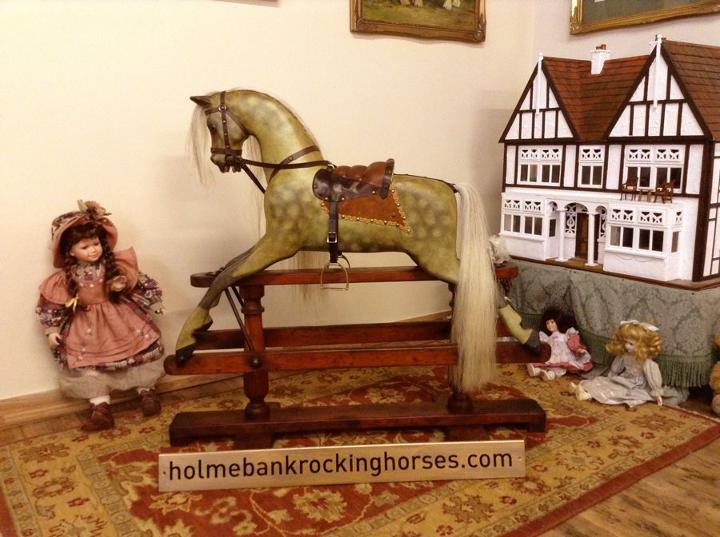 'Mr. Bennet' after a full restoration. His saddle and bridle were made from vintage leather in the style of his original tack. The new paint work is finished in an Antique style in keeping with his age. After stripping his stand down it has been re stained, polished and waxed.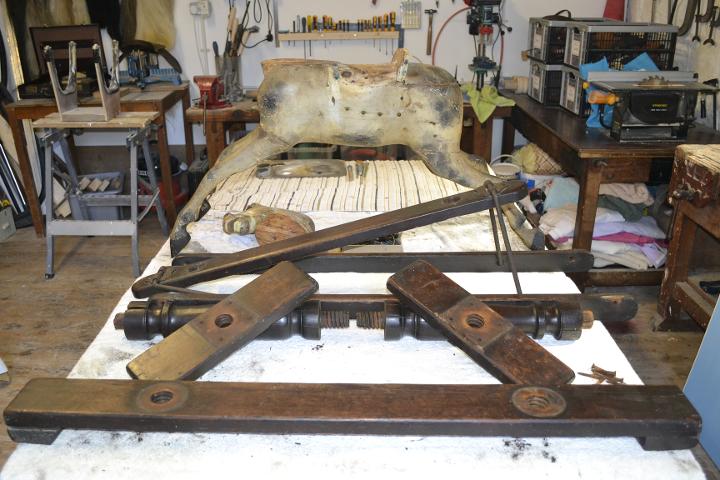 'Mr. Garret' is another G & J Lines horse who had lived most of his 120 years in South Africa. He came to us for restoration in kit form! All four legs had to be removed and re fitted correctly. His head also had to be re attached. Once the constructional work was done we could assess his paintwork, most of which we managed to save. The stand was re built, cleaned, treated for woodworm and waxed.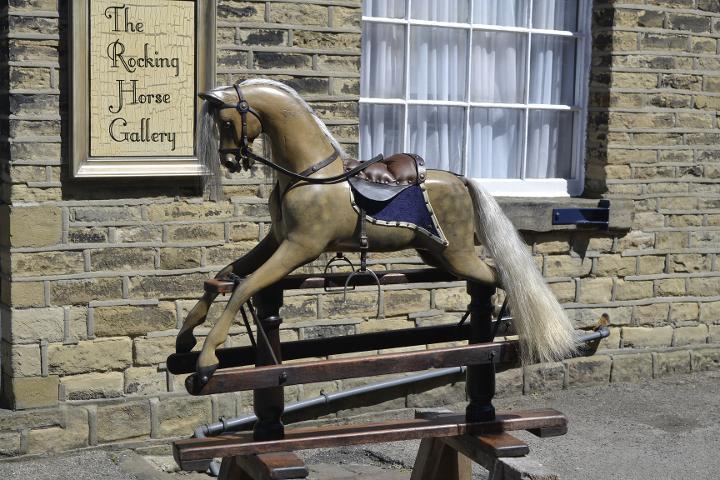 All finished after many hours and looking very smart but still retaining all his history. We get a real buzz bringing a beautiful horse back from the brink ready to be enjoyed for another 100 years.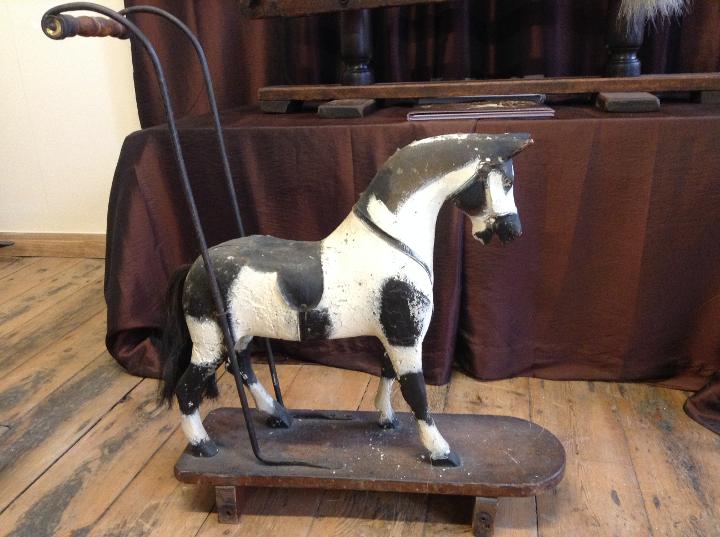 'TITCH' is a little G & J Lines push along horse from about 1900. As you can see his wooden wheels were missing and he had been overpainted in white and black matt.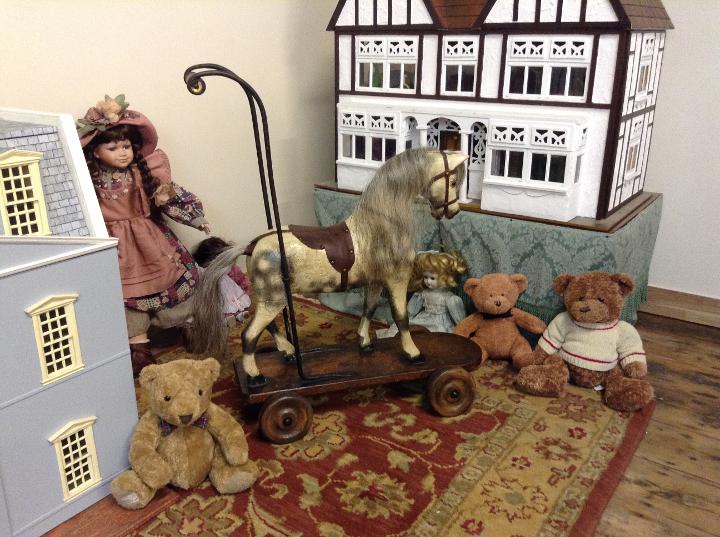 We removed most of his overpaint and consolidated the gesso, then refinished him using reference photographs. we replaced his tack with period leather and fitted him with a replacement mane and tail. We turned new wheels to match the base.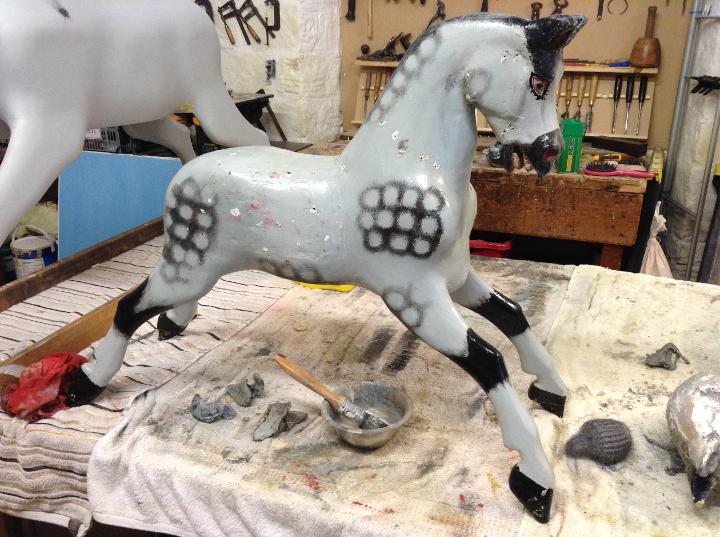 ' Adam' is another Whiley brothers horse that had been 'done-up' probably by a well meaning Grandad. Nothing wrong with that if your grandchild just wants a rocking horse but under all that Dulux gloss is a very rare antique horse waiting to be appreciated again.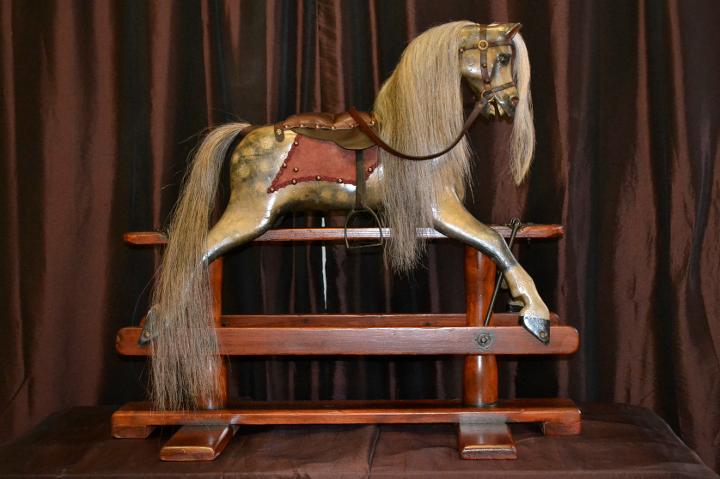 The over paint was removed to reveal some of his original dapples but we had to re paint over half his body, carefully matching up to what we were left with. The saddle and bridle were made from period leather and the finished effect is in keeping with his age.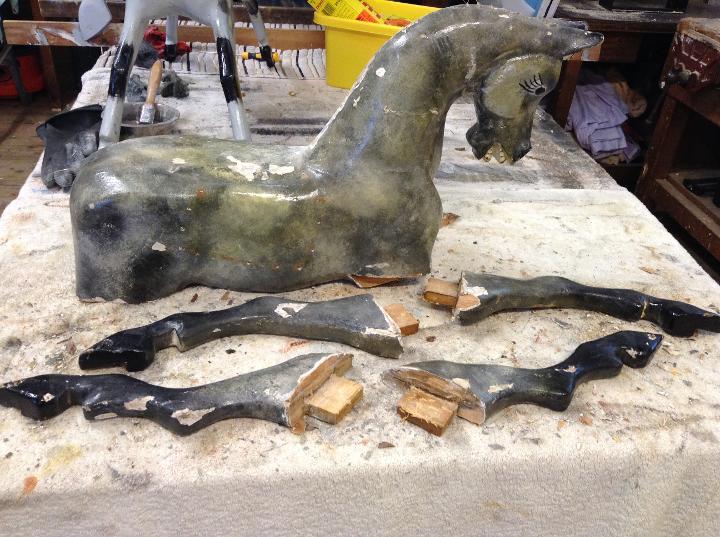 This little G&J Lines horse was sent to us in a bit of a state! we love a challenge.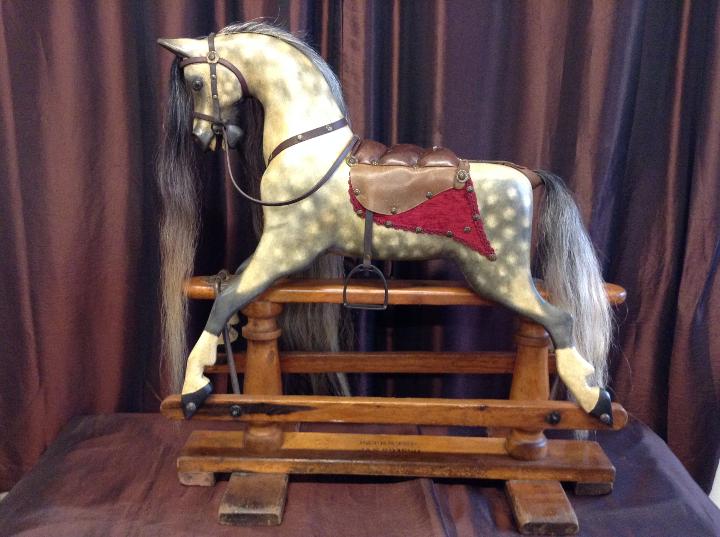 He was reconstructed then the overpaint was removed. Most of his original paint had gone previously so we had to start all over again. The stand was in lovely condition and still had the patent stencil clearly on its base. The tack was made from old leather to match the lovely patina . He turned out a real eyeful and the client was very pleased that we didn't make him look like a 'new horse'