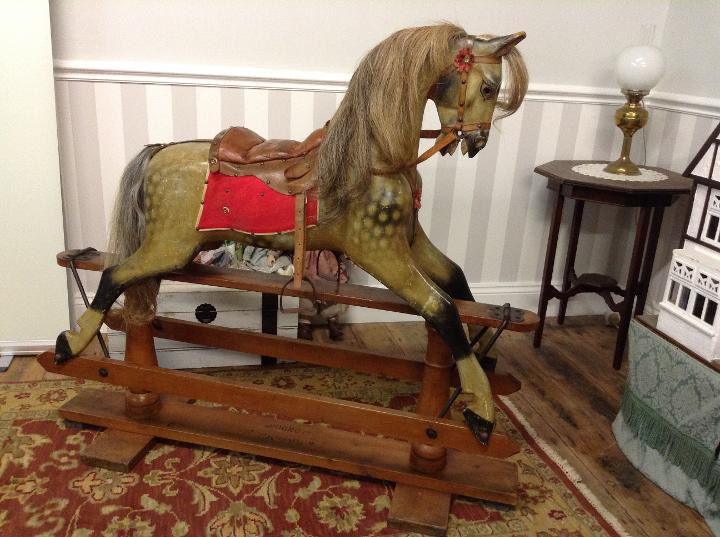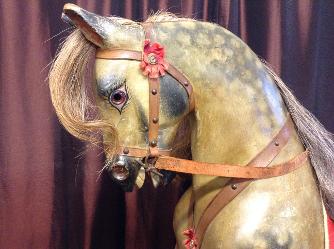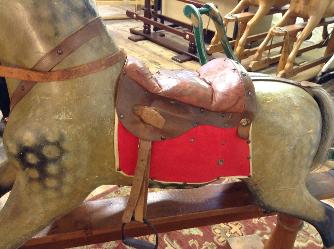 'FREDERICK' By FH Ayres. This handsome gent only required minimal work which is testament to the quality workmanship of the marque. SOLD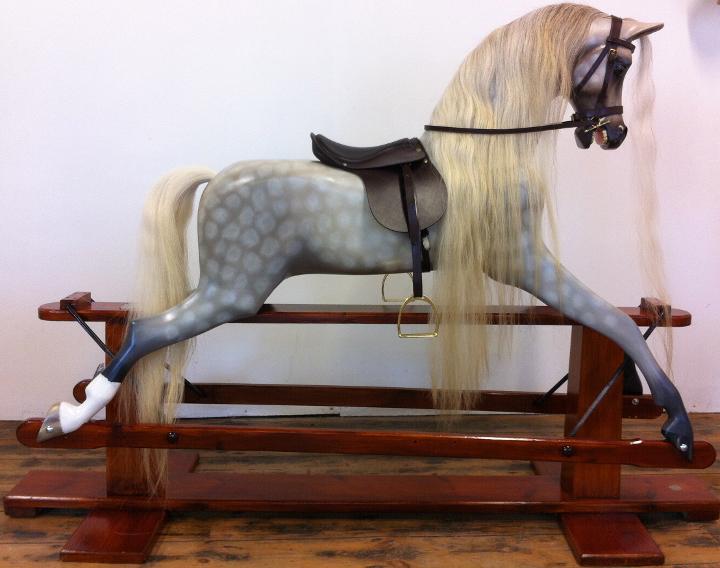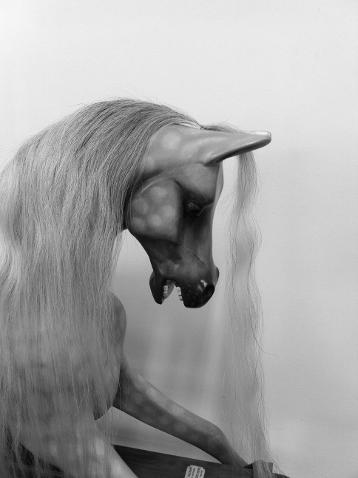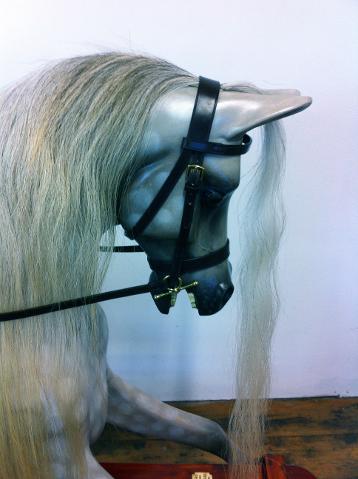 "COROMUEL" A large Haddon completely remodeled in our style. This very imposing chap is a real eye full, With new shaping details to his head and realistic paint finish. His tack is made for us by Jasper Highet a master saddler and is a perfect copy of a real English saddle. SOLD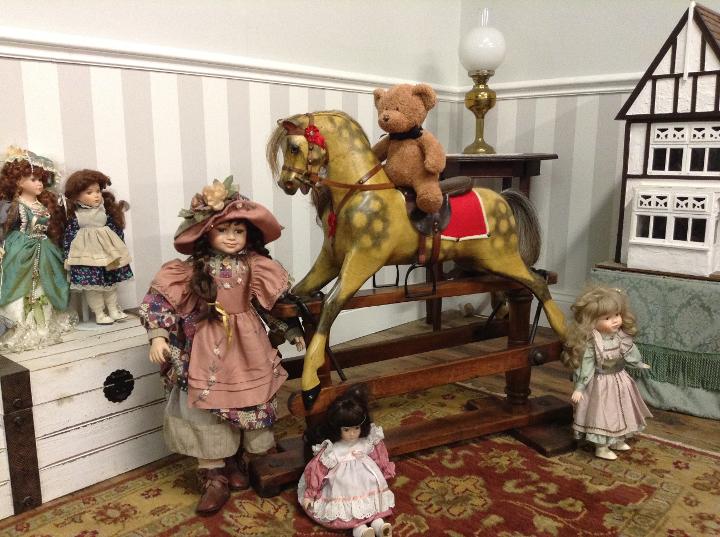 'PIPKIN' a Lines brothers Sporty boy size 1 (34") made around 1921 SOLD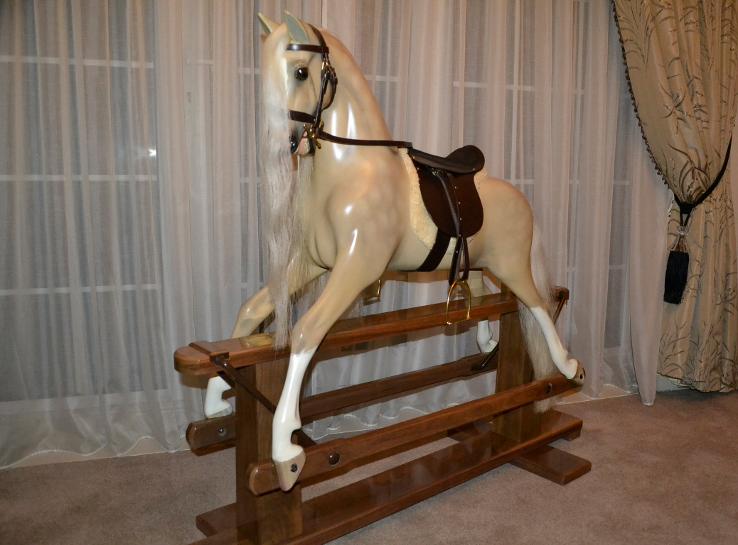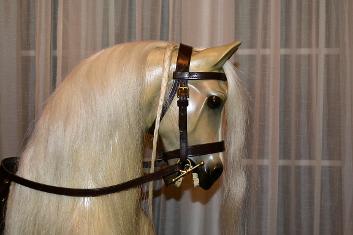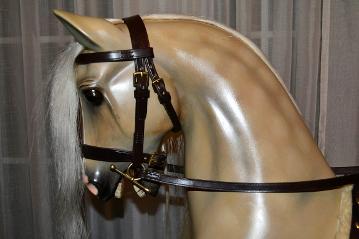 "HONEY" A medium Haddon finished in a pale Palomino style. Tired of dapple grey's ? This lovely horse has a warm mellow patina and is mounted on a solid oak swing stand. High quality English miniature saddle and bridle in dark Havana brown. SOLD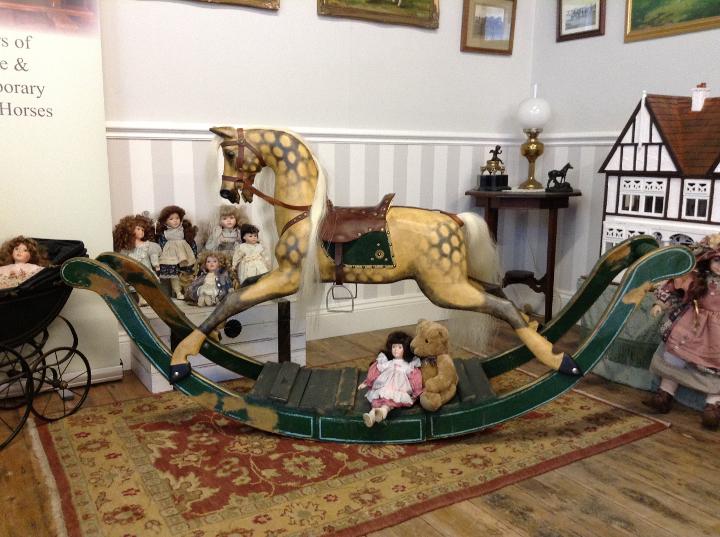 'GYPSY' A wonderfull bow rocker of unknown maker. Brought back to life here in the Holmebank workshops. SOLD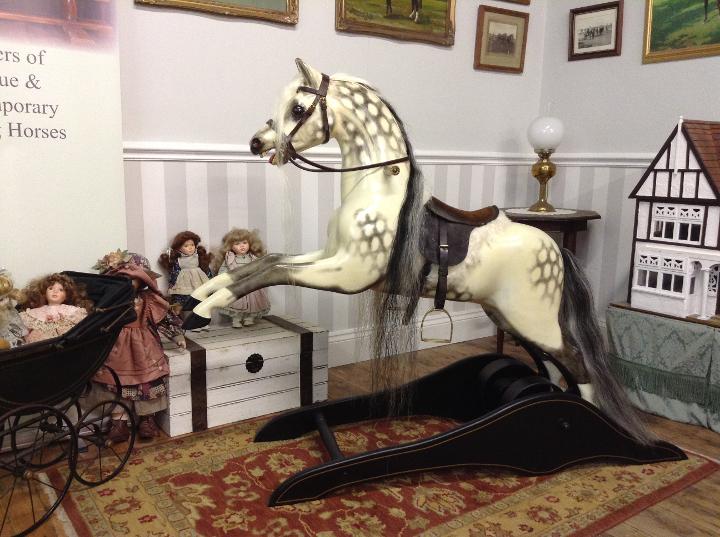 This is a rare 'Ragamuffin' horse. Only 200 were made. It is a fiberglass horse mounted on a spring base not unlike the Crandal horse from the USA. Fully restored here at Holmebank an fitted with superb sadlery. SOLD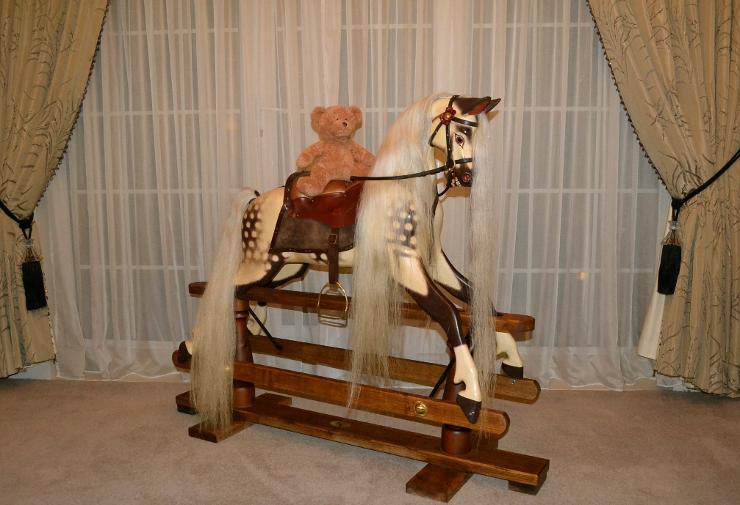 'TREACLE' is a David and Noreen Kiss reproduction of a Victorian Lines horse. Exquisitely carved and sitting on a quality hardwood stand she is finished off with a lovely English leather saddle and bridle and although she was made in 2000 she looks like she has rarely been ridden. Standing 43' high she is the most popular size of all so a lucky child would be able to enjoy her for many years. Rocking horses by David and Noreen Kiss will undoubtebly become highly collectable and I can see them going up in price as the 21st century unfolds. SOLD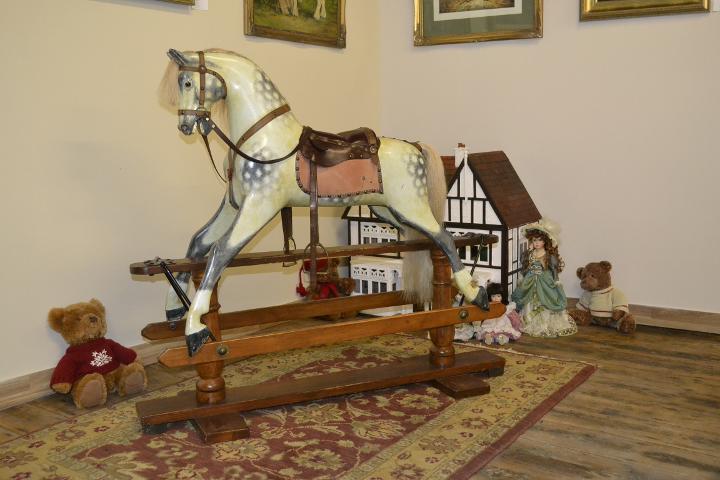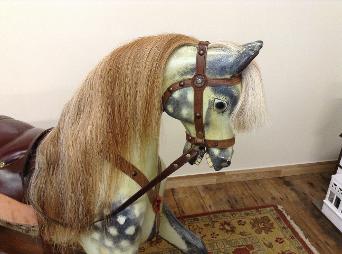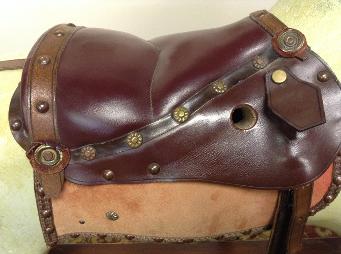 "FLORENCE". A lovely F H Ayres horse circa 1920 in truly superb condition. She has had some restoration work done about 30 years ago. SOLD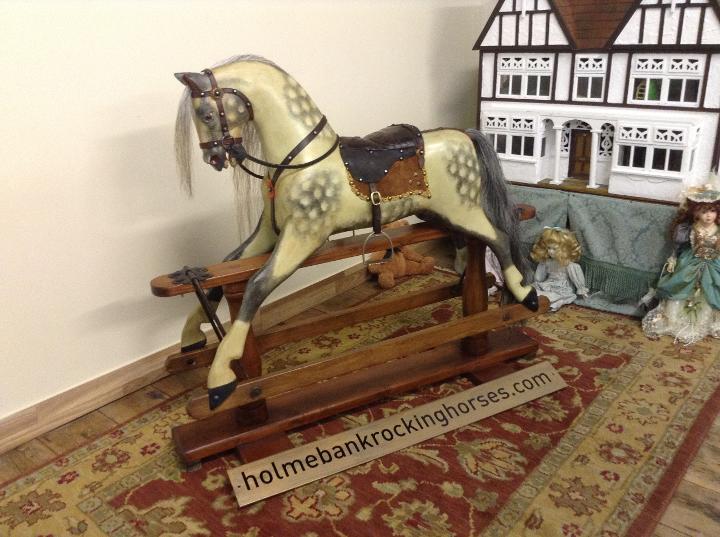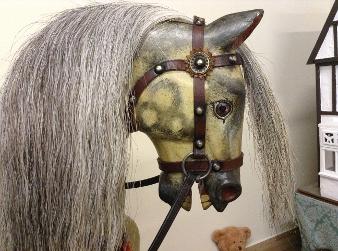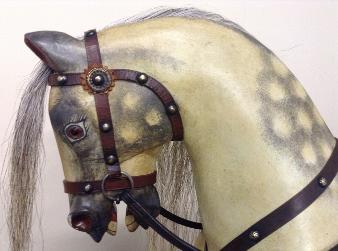 "PINKIE" A lovely 36" F H Ayres fully restored in our workshops, retaining most of her original saddle and now looking almost like she did nearly 100 years ago. Using traditional methods we have achieved the right patina and using period leather and a grey mane and tail she really does look the part. SOLD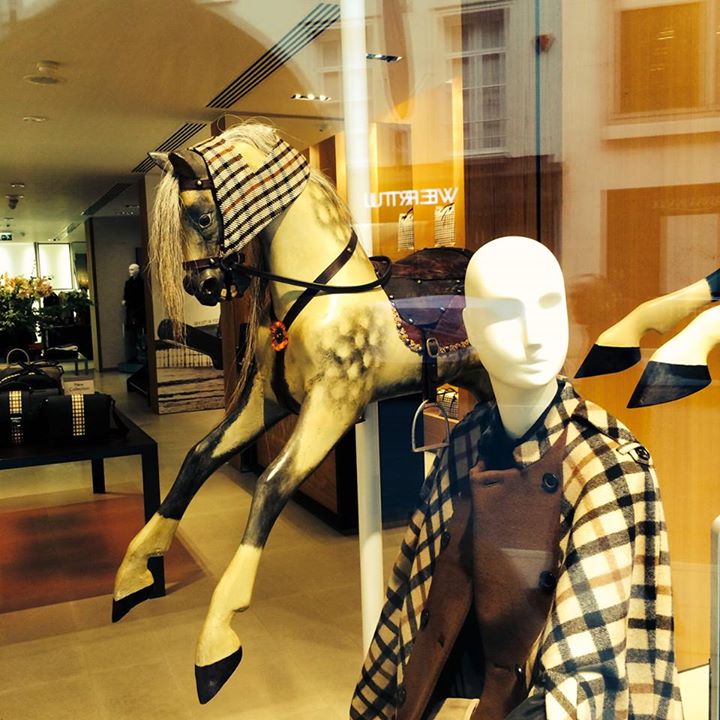 'PINKIE" In her new home on Bond Street London in a shop window display.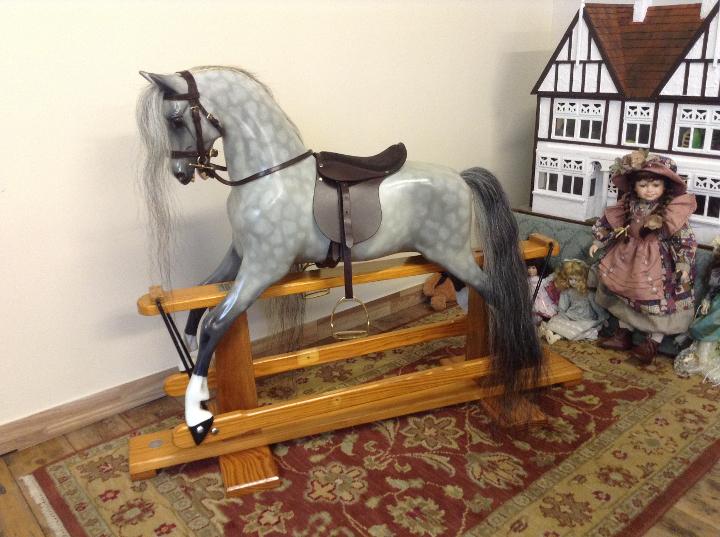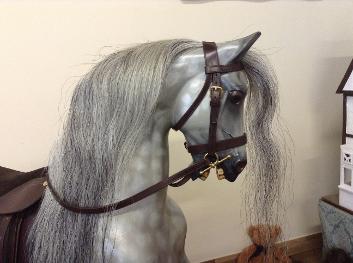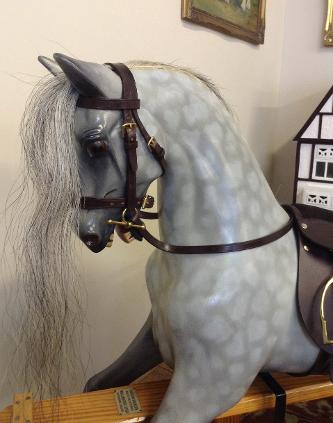 'WILLIAM' A late 1970's medium Haddon. Fully remodelled in the Holmebank style with English havanna leather saddle and bridle made especially for him by Jasper Highet master saddler. Lovely new grey mane/tail and natural dapples to make him as realistic as possible. SOLD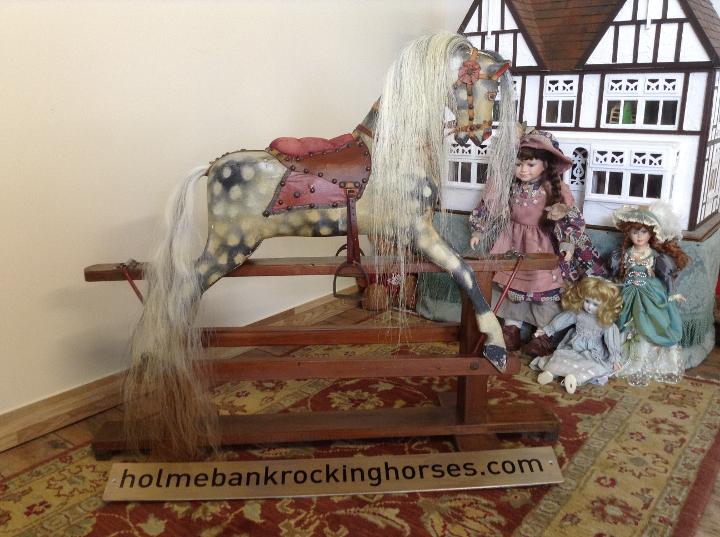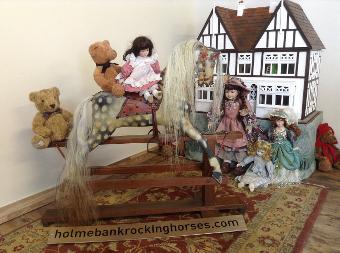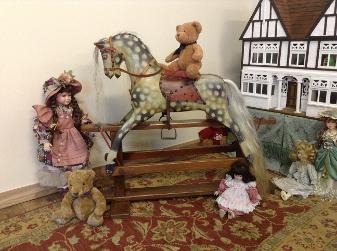 'BARNEY BUTTON' is a very cute Rocking horse 35" high made in the mid 1950's by the Collinson Company of Liverpool. Barney has all his original paintwork and tack, He is perfect for any nursery or child's bedroom or would make a lovely addition to any collection. A Collinson horse of this age is very hard to find in this condition, it is also one of the most visually appealing little Collinson horses that we have ever had in the workshop. SOLD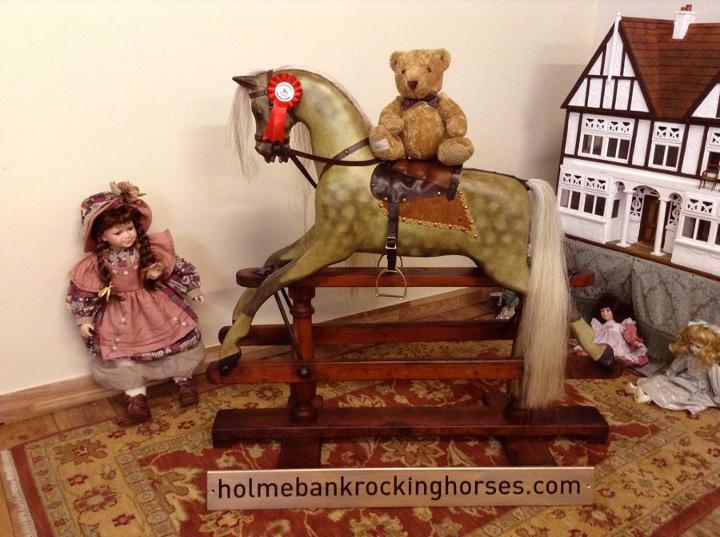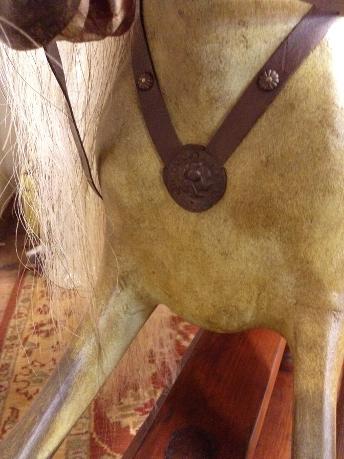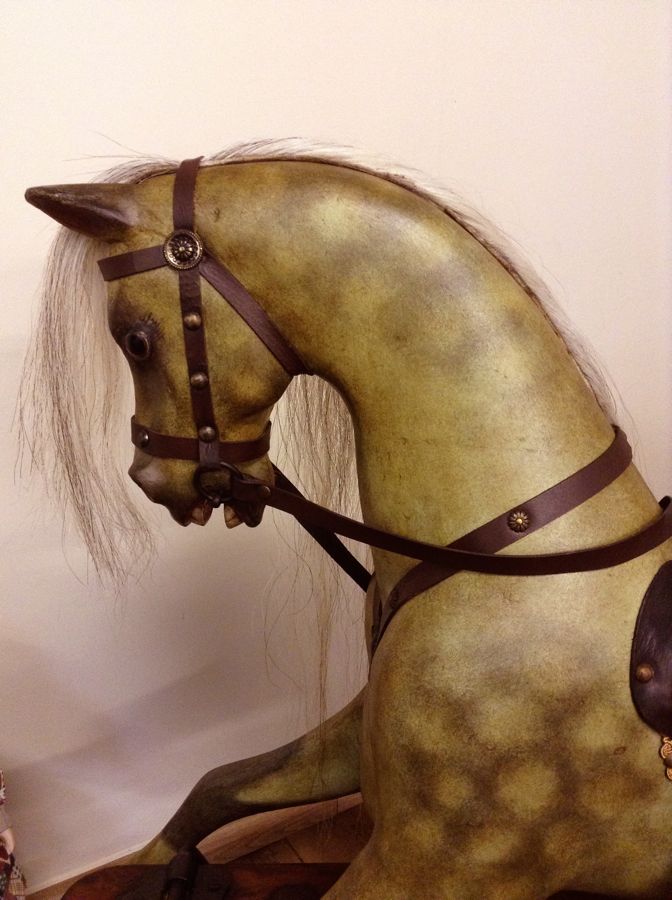 'Mr BENNET' is a G. and J. Lines horse about 1910 vintage. We have fully restored him using vintage leather and fittings. He has the thistle badge on his chest and his paintwork is lovely and mellow so he looks over 100 years old but is in great condition and will be able to go on for another 100 years. He is a excellent investment that can be enjoyed by adults and children alike but he is only 39" so adults can only look! He is for sale at SOLD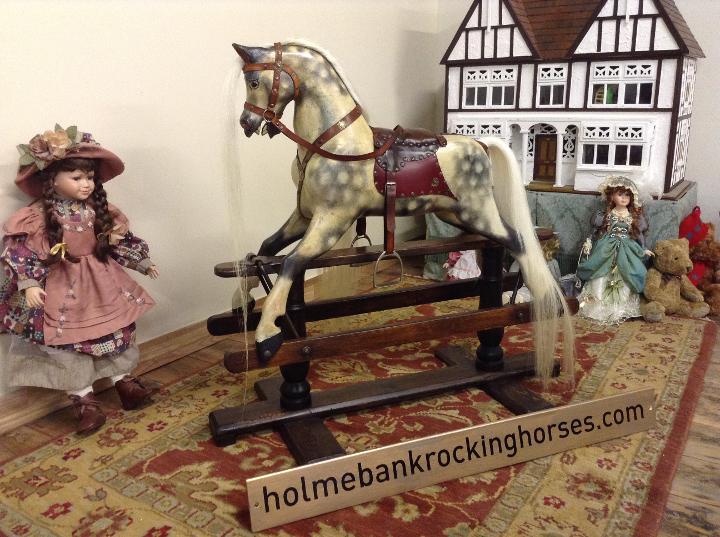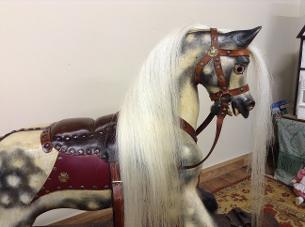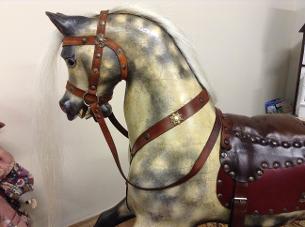 'CHARLIE' is a very rare Whiley brothers horse from about 1930. He came to our workshops structurally sound but had been overpainted many times with gloss paint. Hours were spent carefully removing the thick layers, we have managed to reveal the majority of his original paintwork and retouched were necessary. The tack was shot but we took patterns from it and made new saddlery but used all the old brassware. He now looks as near original as possible. Charlie stands 34" and would make a fabulous feature in the right setting or make a great addition to any collection. We trimmed his mane and tail for the new owner to a more traditional length. SOLD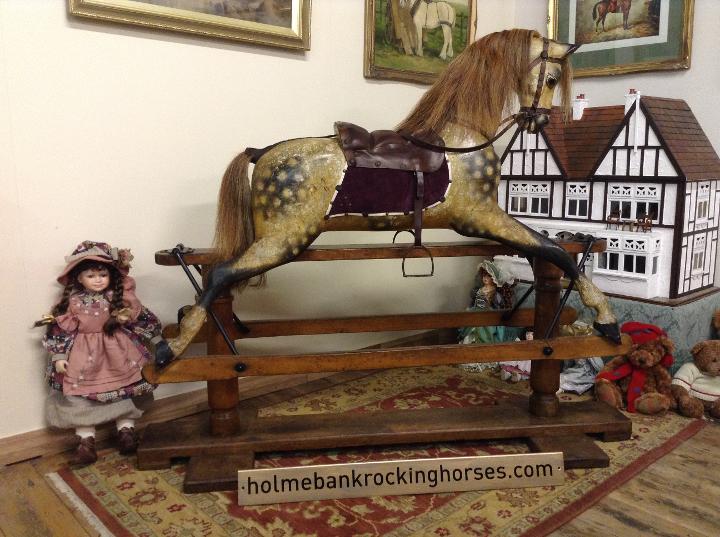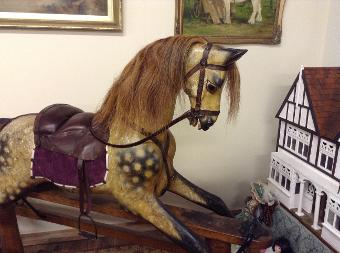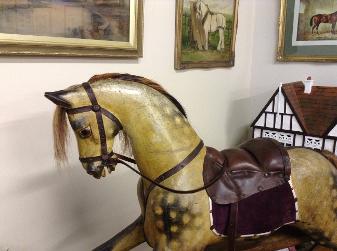 'HUBERT' is a 52" high G & J Lines Rocking Horse Circa 1900-1910. This imposing gentleman has all his original paintwork which is very rare.His saddle has been expertly replaced by David & Noreen Kiss but as far as we can tell the rest of him is all original. He would be perfect for any collection or would make a focal point in any room setting and be a great investment for the future. Offered for sale at SOLD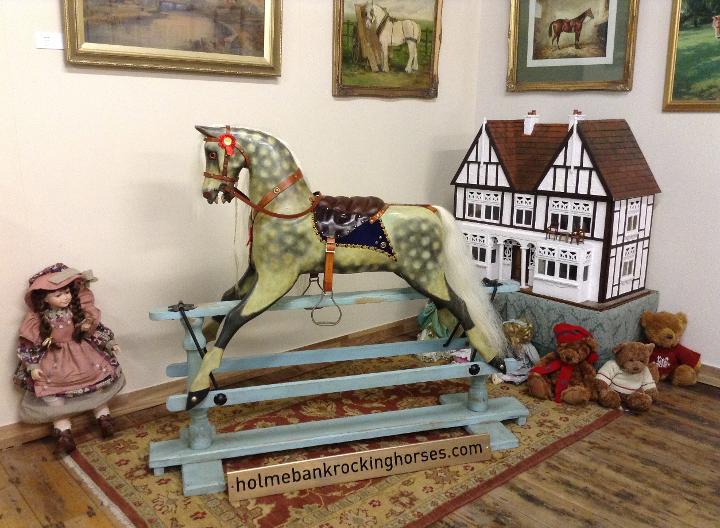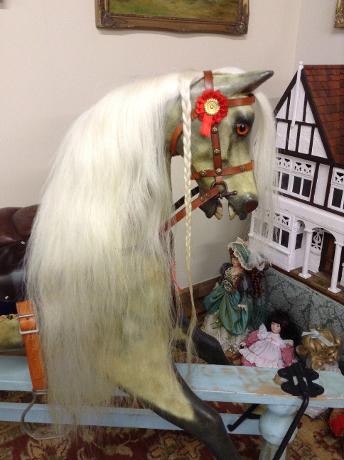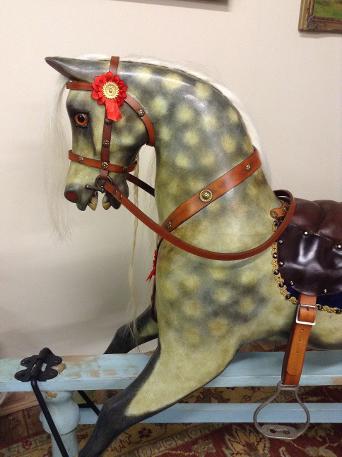 'BENJAMIN'. A 47" Norton and Barker circa 1930s. He has had a complete restoration in the Holmebank workshop. He would enhance any collection but is sturdy enough to be enjoyed by many generations of children. He is offered for sale at SOLD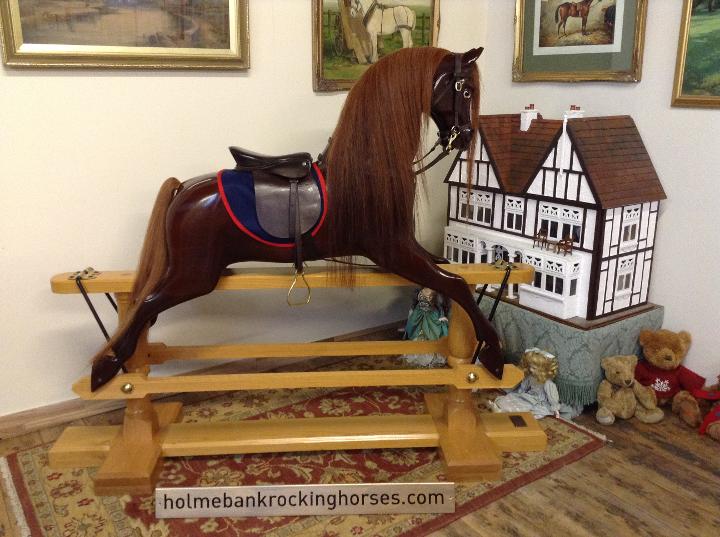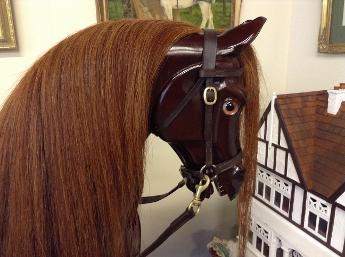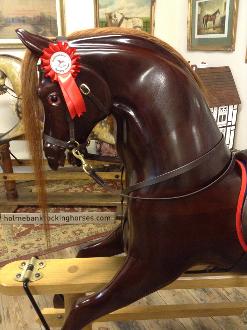 ' SAMUEL' is an Extra Large 57" Rocking Horse and is offered for sale on behalf of a client. He is an absolutely stunning, solid Mahogany horse, carved by Anthony Dew ( The Rocking Horse Maker ) of York in 1991. This is the best Mahogany Horse that we have ever seen and is built so sturdily he could carry an adult and last for 100's of years and go on to become a family heirloom. In totaly original outstanding condition he is offered for sale at SOLD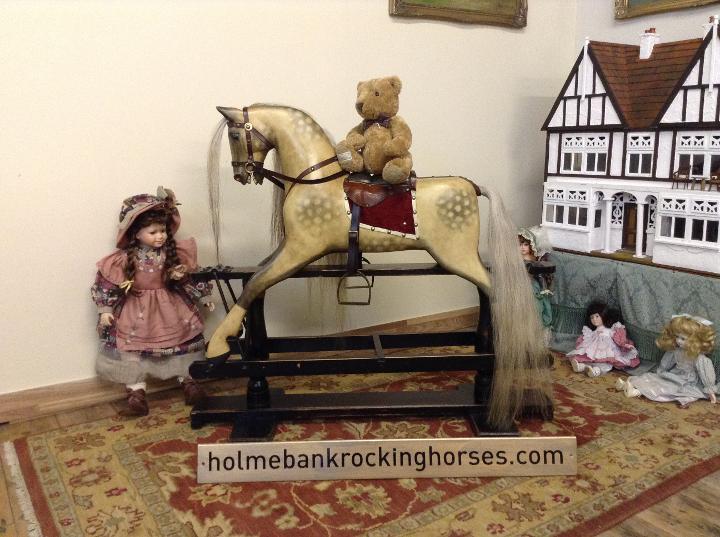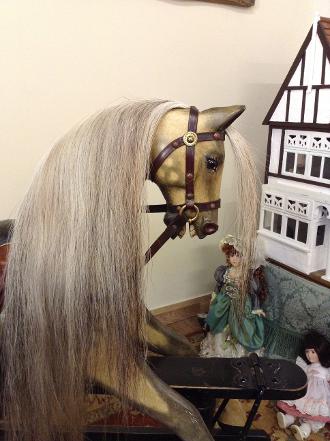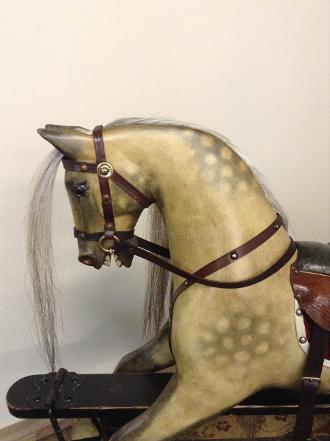 'ALFIE' is a 1949 F H Ayres Rocking Horse sympathetically restored by Holmebank. Standing 37" high he is suitable for a child up to about 8 years old, or would make a fabulous feature in any room. We are offering him for sale at SOLD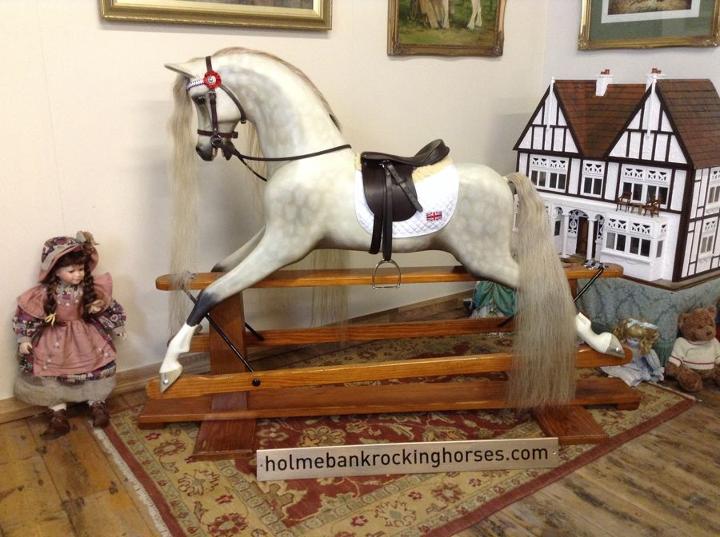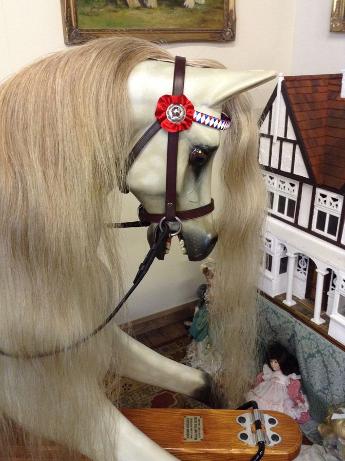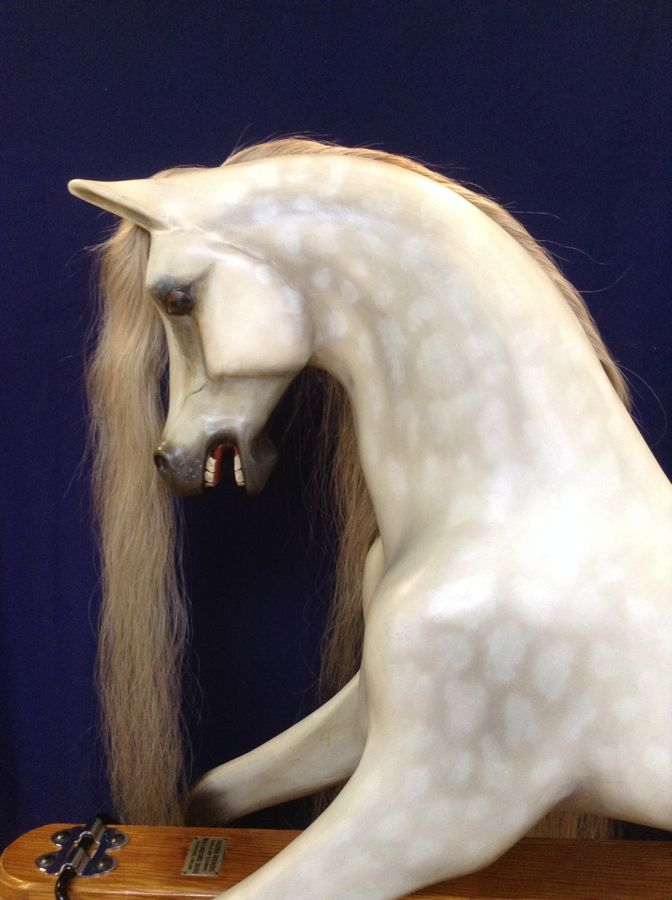 'MERLIN' is another large Haddon Rocking Horses. Standing approx 50" high and dates from about 1970. He has been completely remodelled. He has re-shaped head details and a realistic hand painted finish. Dark havana leather tack and a fabulous new flowing mane and tail set this handsome chap off. Would suit an older child or small adult. The Haddon Rocking Horses are made from GRP ( fibreglass ) so are extremely robust and perfect for children to have hours of fun on. He is offered for sale at SOLD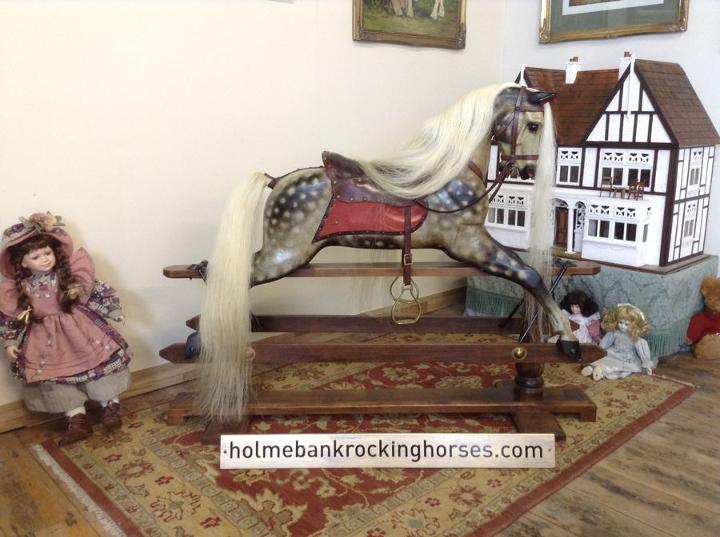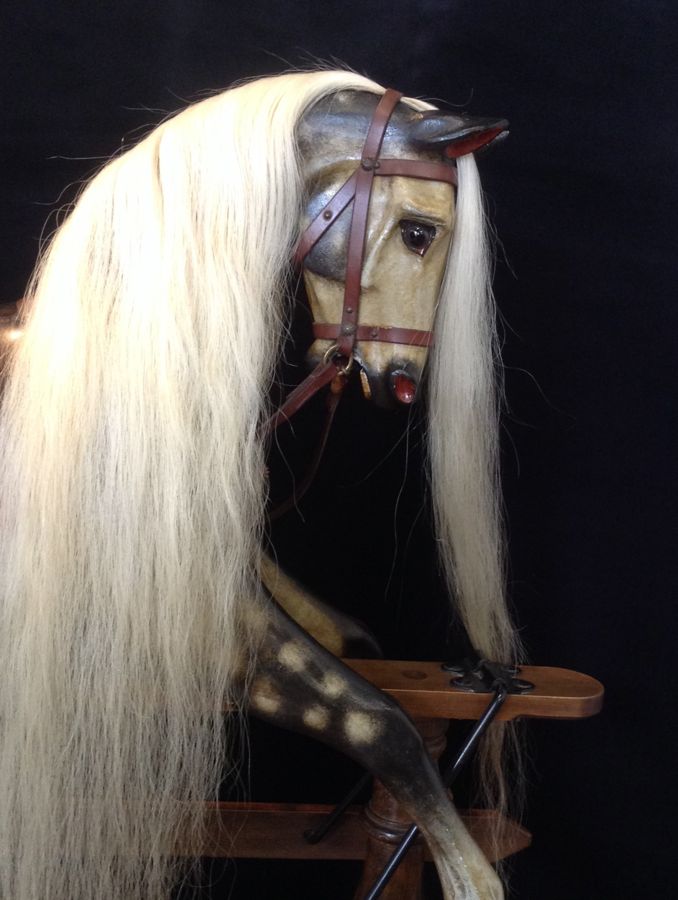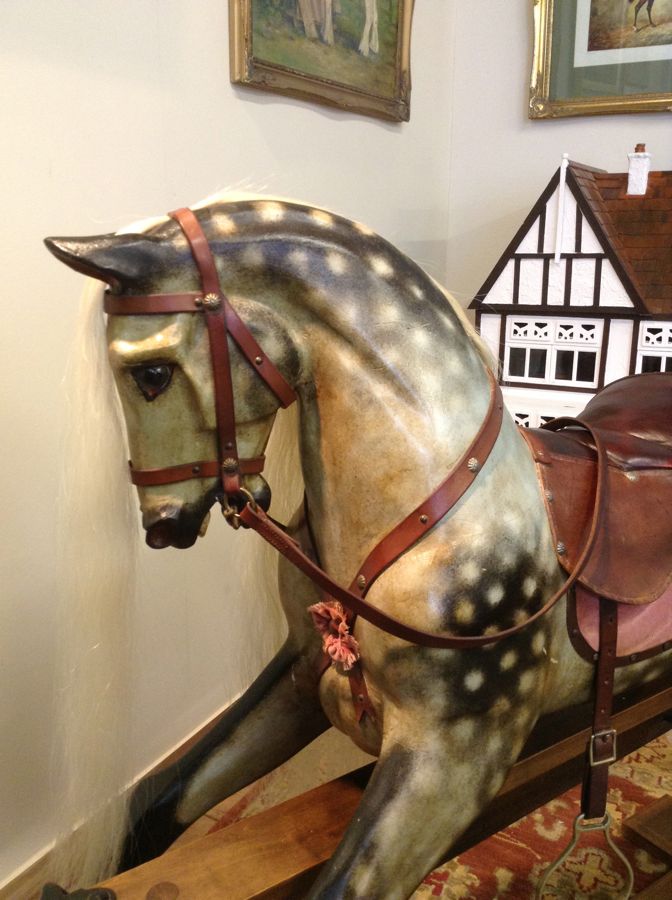 'HAROLD' is an outstanding 42" high extra carved Legends rocking horse. Made in 1993 he is in original condition with the exception of a new mane and tail which has been recently fitted. Legends are acclaimed as the finest rocking horse maker in the Uk. Offered for sale at SOLD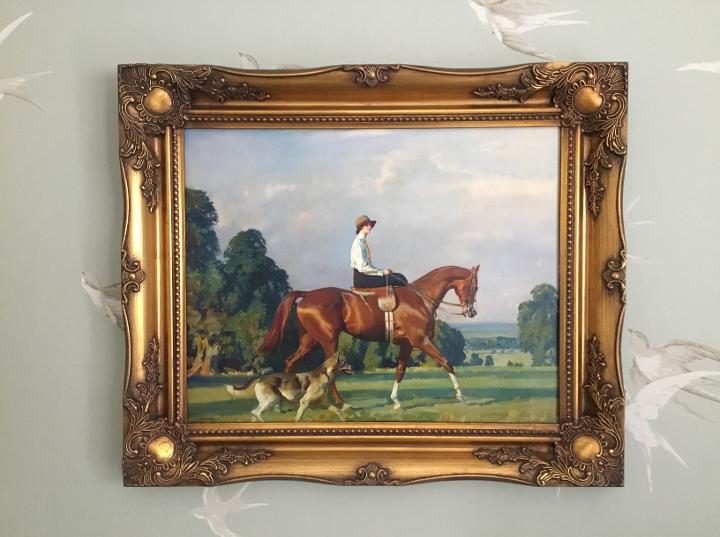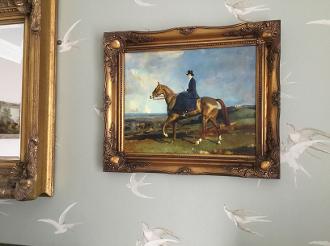 'Caramac' A medium Haddon finished in a rich Palomino dapple and fitted with Jasper Highet hand made quality leather tack. His stand is finished in mid grey. Offered for sale at. SOLD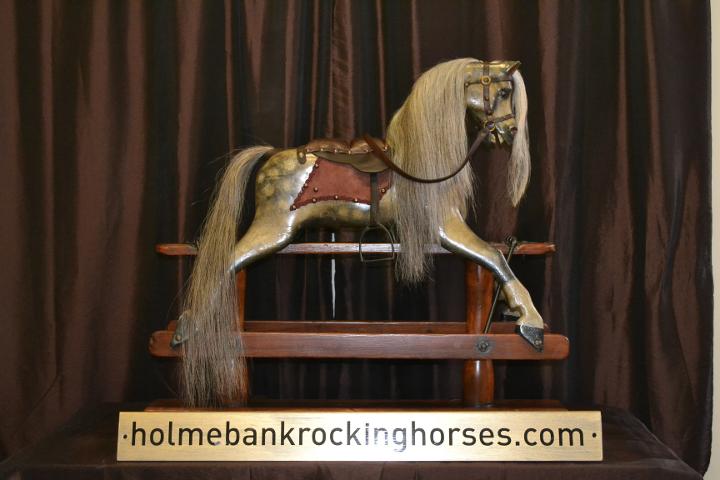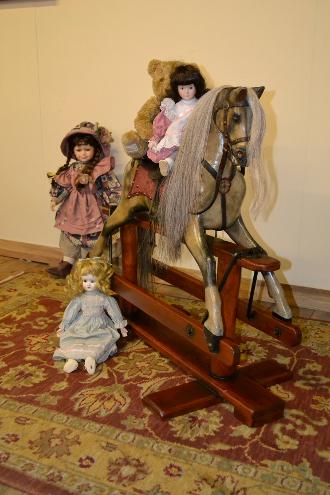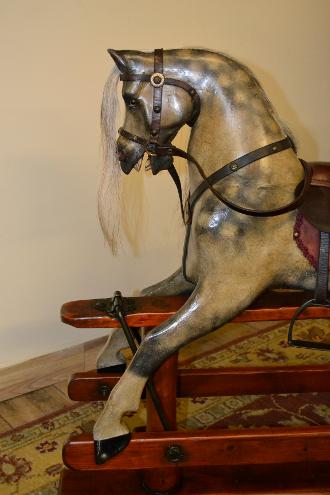 'ADAM' A very rare Whiley Brothers of Leeds horse from the 1930's standing 34", sympathetically restored at Holmebank. He retains much of his original paintwork. His tack is made from aged leather taken from patterns of the original. Adam is small enough to fit into any room setting or would be perfect for a doll or teddy collector. Offered for sale at SOLD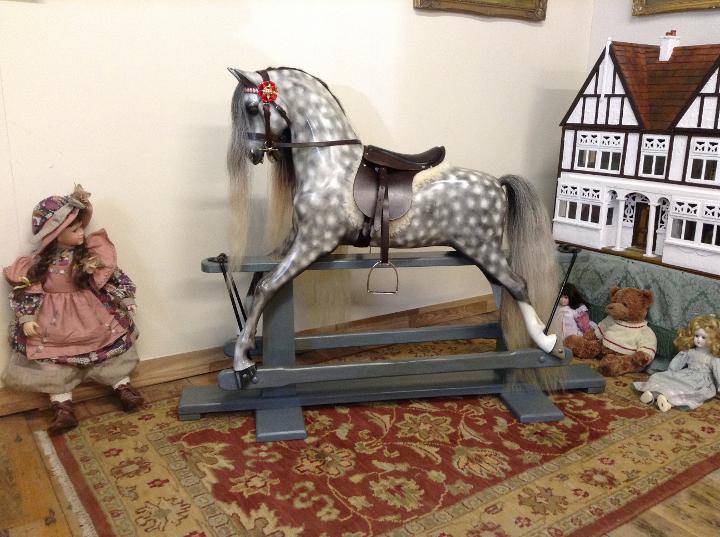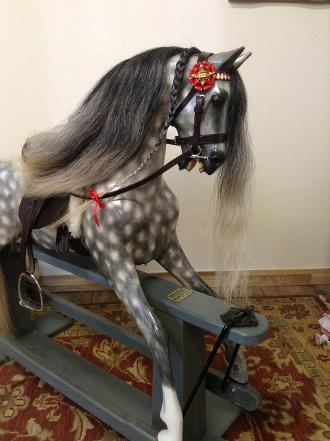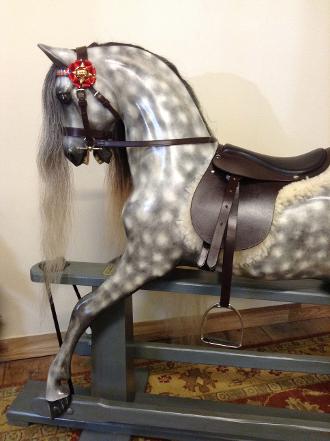 'SILVER' is a medium Haddon standing 41". Lovely dark dapple grey with luxurious grey mane and tail. He is fitted with Jasper Highet dark havana tack. Grey painted stand which has been waxed to give it a lovely sheen and 'Lines' swing arm brackets fitted instead of the blocks of plywood which are standard on these horses. A very eye catching horse offered for sale at SOLD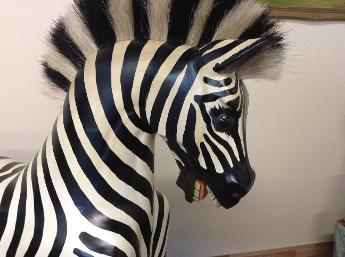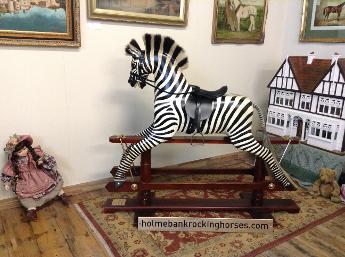 'ZEBEDEE' A' Holmebank48' solid Ash Rocking Zebra. Fitted with black removable Jasper saddle and bridle. Something different, he is a real statement piece and would make a great feature in any home as well as giving your child hours and hours of pleasure. Offered for sale at SOLD.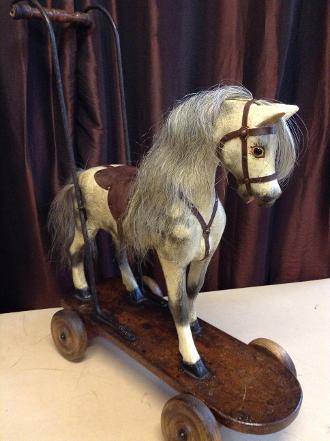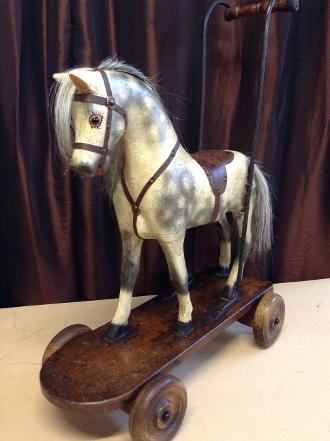 'TITCH' A G & J Lines push along horse from circa 1900. He has been sympathetically restored by David. This little chap stands just 24" from floor to top of his ears and would suit a doll/bear collector. Offered for sale at SOLD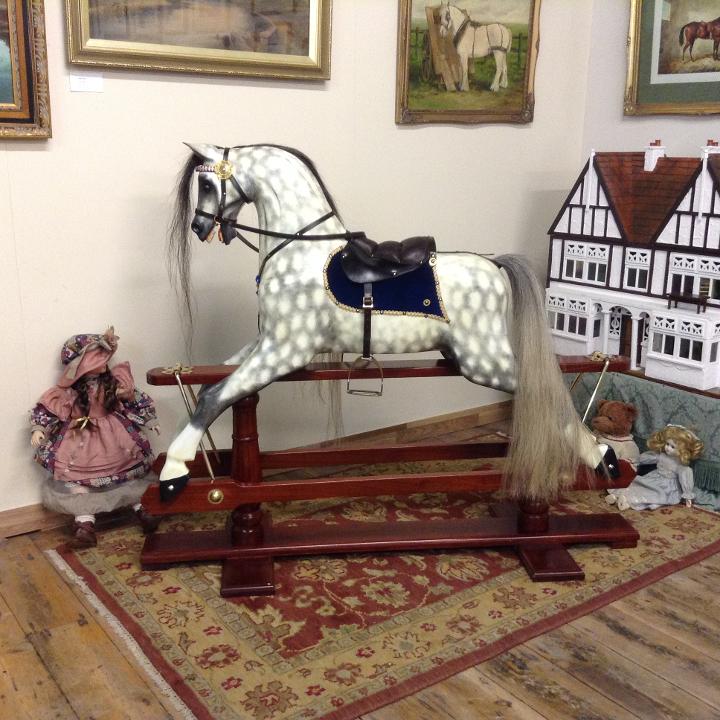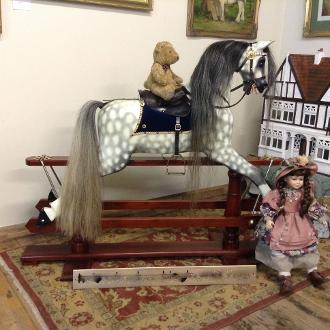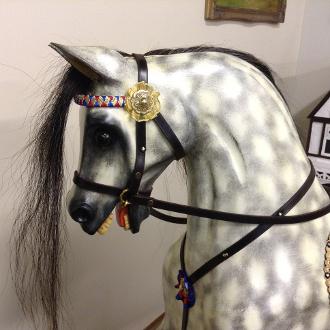 'COBWEB' A 'Holmebank 48' Hand painted by David here at Holmebank in a traditional style, with traditional saddlery, offered for sale at SOLD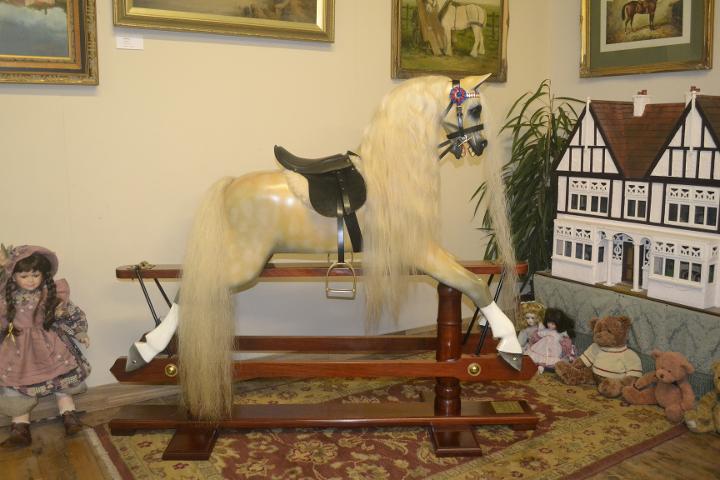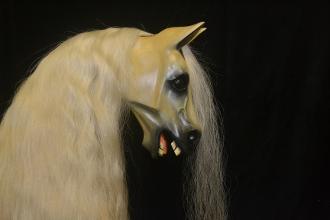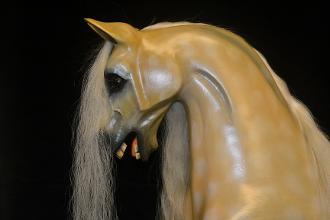 'SERENADE' A Holmebank 48 finished in palomino style with solid Rosewood stand and hand painted by David here at Holmebank Studios and fitted with fully removable Jasper tack. SOLD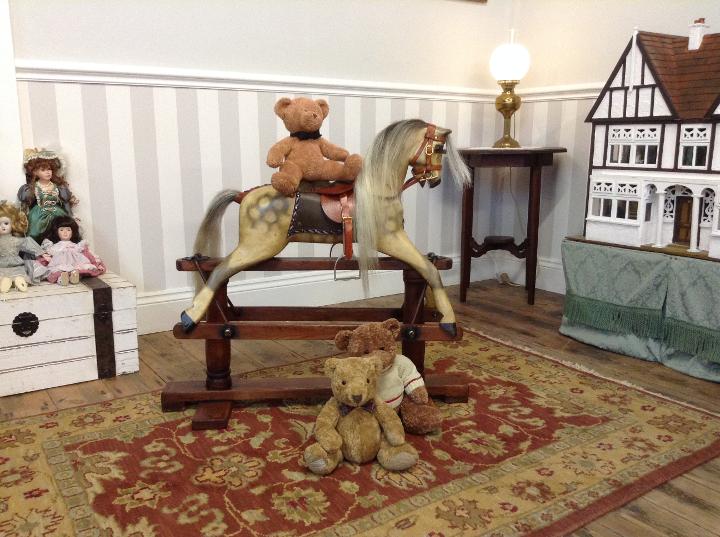 'MINIE'. A 33" Lines brothers horse from about 1920. Now with a new gang of teddies. SOLD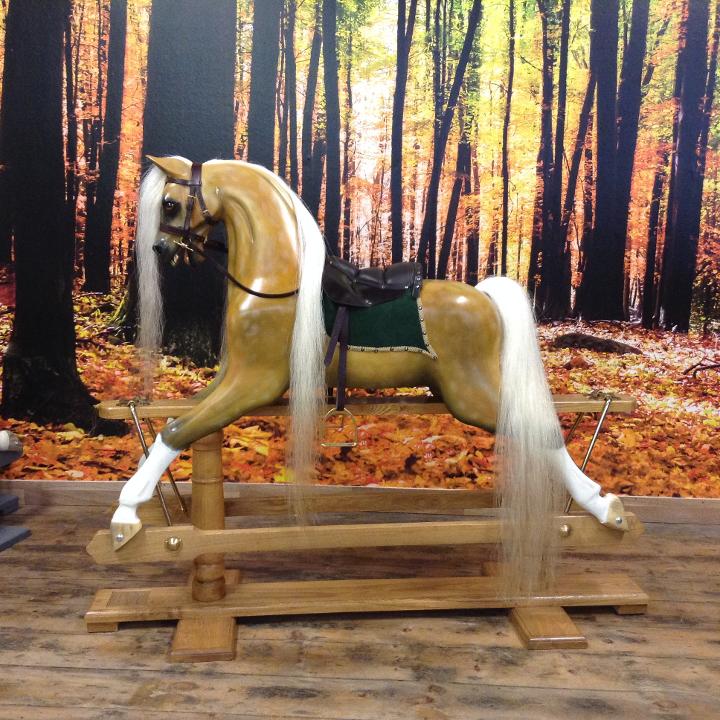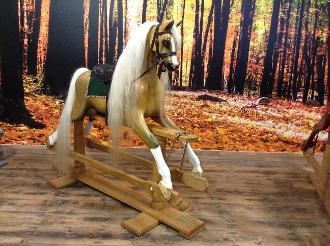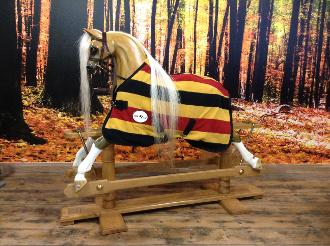 'Rhythm' a Holmebank 48' in palomino with traditional saddle and removable bridle. Finished to clients specific requests. She is going to her new home in Essex complete with a new rug. SOLD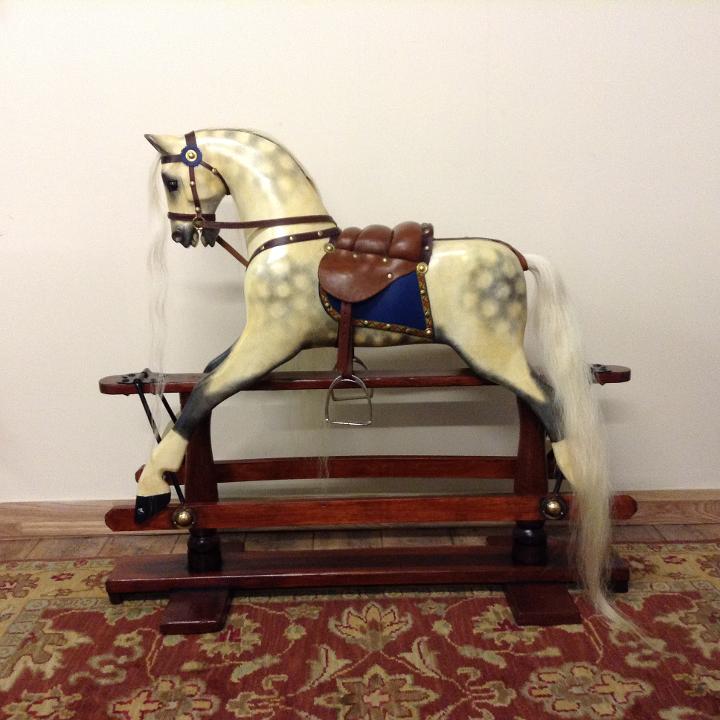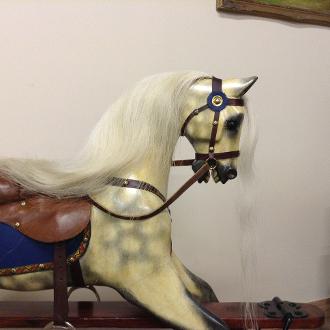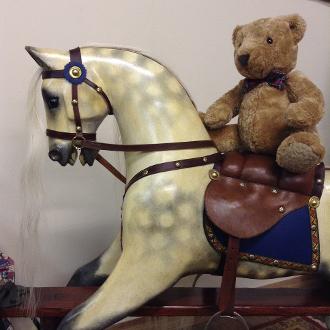 'Amelia' A 37" F H Ayres horse Circa 1939. She was sympathetically restored here at Holmebank. SOLD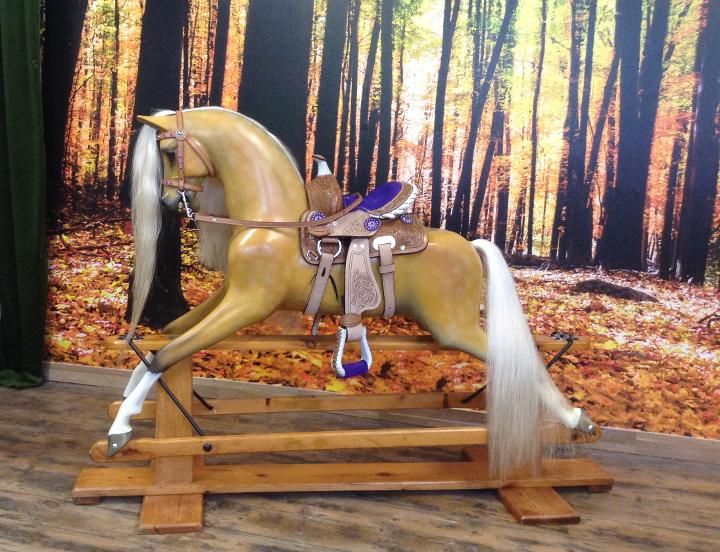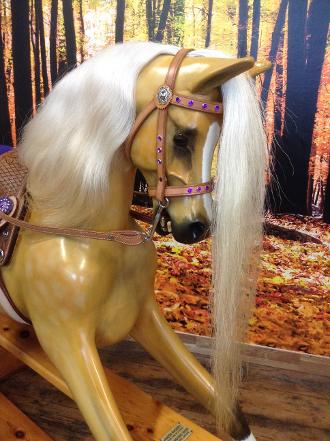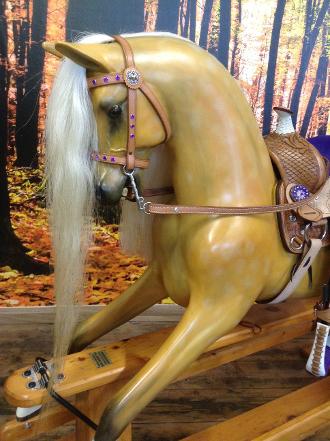 'Mr Ed.' A 50" Haddon horse from about 1980 fully restored and remodelled and fitted with Western tack all the way from Ohio USA. SOLD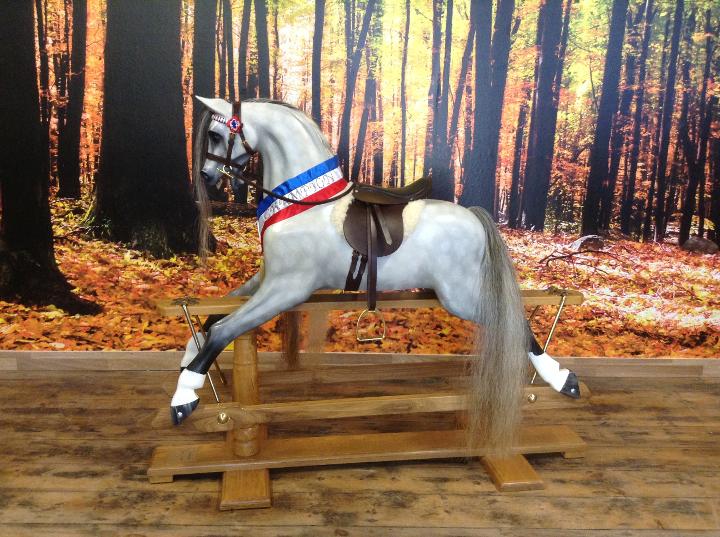 Another of our Holmebank 48s in a subtle dapple grey. SOLD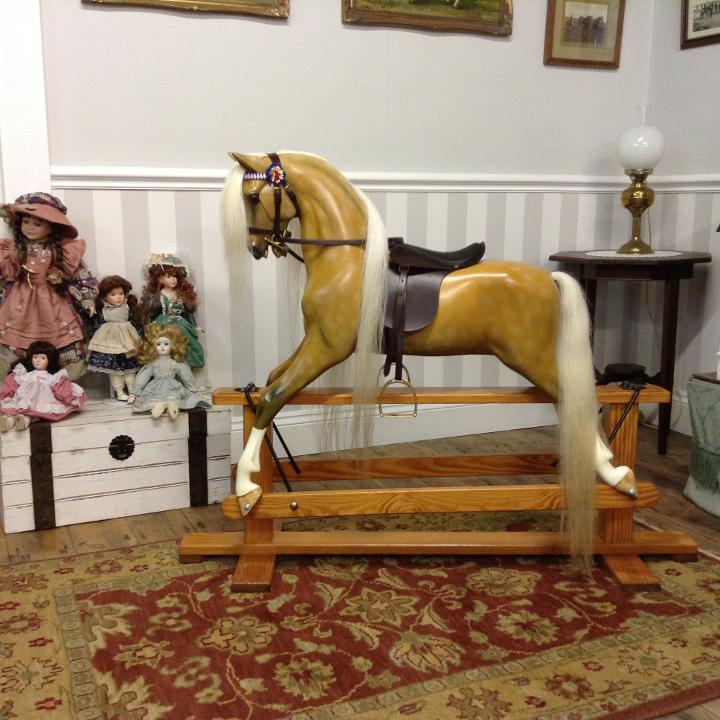 Another medium Haddon fibreglass horse Palomino style. SOLD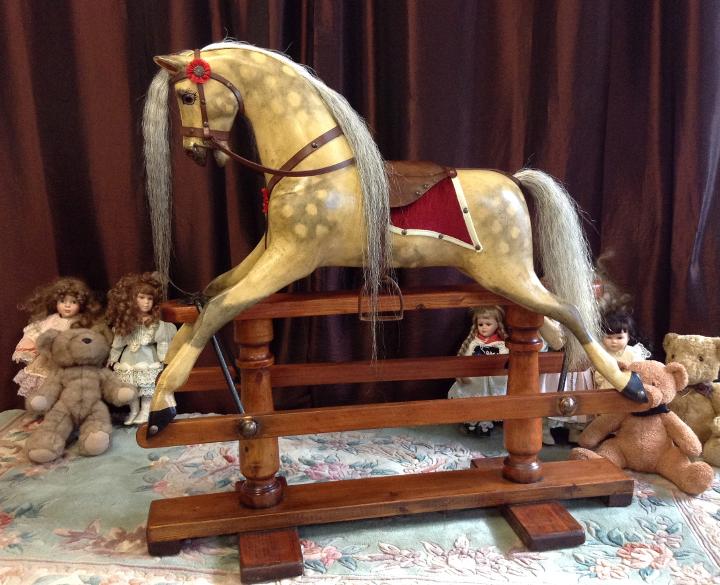 G and J LINES size 1 improved safety horse 1910, fully restored at holmebank. SOLD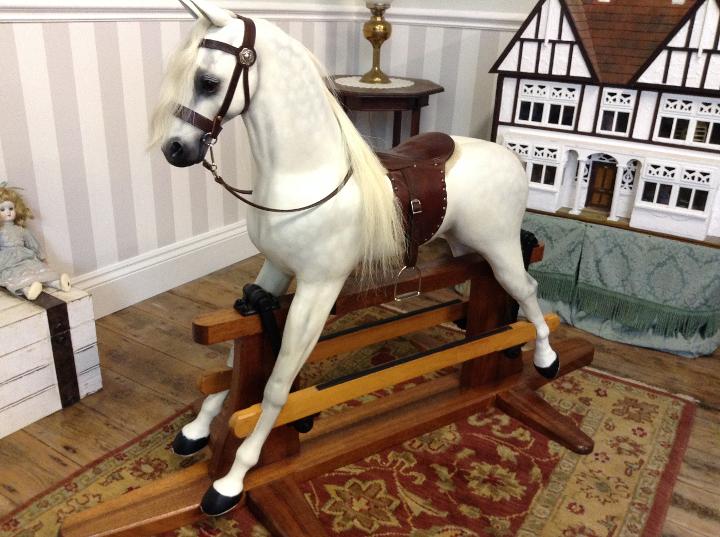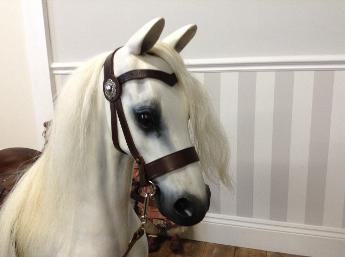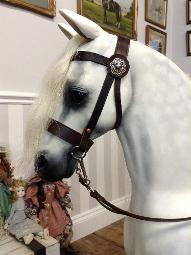 'HEIDI' A very unusual horse. Excuisitly created by a highly skilled carver, the trouble is we don't know who they are!! In the 30 odd years that we have been involved in rocking horses we have never seen anything like her. Now Sold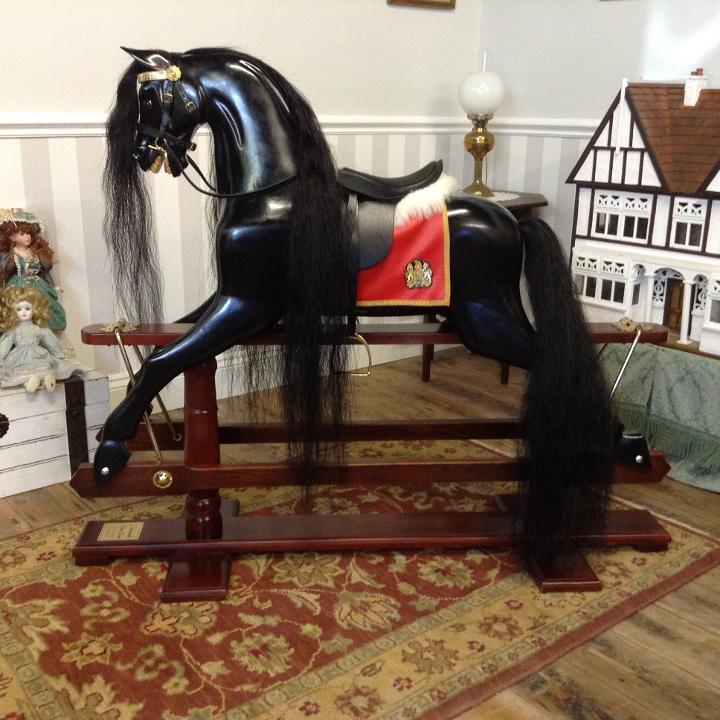 'Seargent' one of our holmebank 48s finished in black with black military style tack. SOLD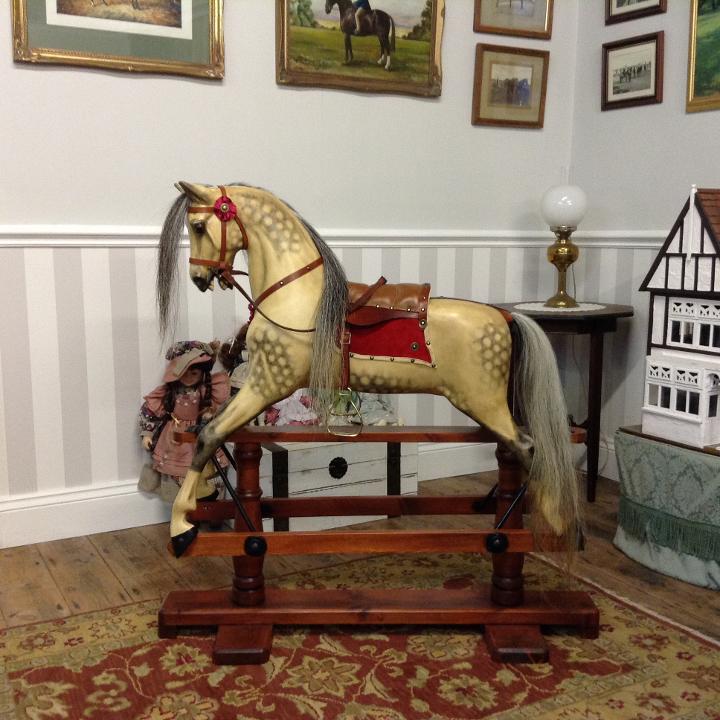 'PUMPKIN' a medium haddon fibreglass horse finished in the traditional style. SOLD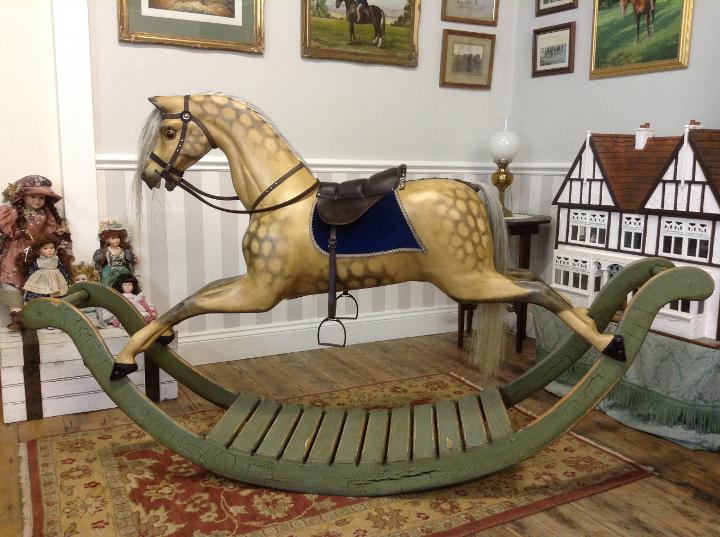 'GEORGE' a magnificent honeycomb of Devon fibreglass horse re modelled by David in the traditional style. SOLD